Your freedom of speech. What's up with voice control?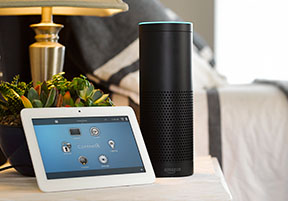 Voice control is on the upswing. It's time to start talking.
You're probably using a handheld remote or smartphone to control things, right? And you may have been thinking, isn't there a modern, better way?  The ability to operate products in the home by simply speaking in natural language has been the realm of science fiction for years. Thanks to voice assistant platforms like Amazon Alexa, Google Home, Apple Siri and others, the ability to control lights, thermostats, A/V equipment, door locks, irrigation systems—just about any smart device imaginable—is now a reality. And, it's come a long way. 
Voice Control introduces newfound freedom of speech. It's a hands-free way of interacting with your home and provides some unique benefits you don't get with other control devices such as touchscreens and keypads.  
Products with voice-control technology built in, such as smart speakers and light switches, are widely available. These products can share your verbal commands to other smart products, including full-on home automation systems from companies like Control4. 
So where do you get said products to try? While some voice-enabled devices are available from online retailers, it can be tricky to put it all together in a way that works for you as part of an easier daily routine. Depending on how many products you want to control, evaluation of your wishes and setup by a professional really matters. We at Gramophone understand the latest technology and related pitfalls and can ensure your wishes are heard loud and clear – and executed flawlessly.​
A few great reasons to use your voice and be heard: 
• Immediately turn on lights when walking into the house at night with your arms full of groceries
• Set your home temperature and security in seconds for your departure or at bedtime
• Control a music system while you're tinkering in the garage or exercising
• Make a selection from your music collection without leaving the couch​
Talk to us and voice your ideas for your own home.