YOUR WORKDAY. SIMPLIFIED.
Gramophone Commercial Solutions applies our honed and established skills in home entertainment, automation, engineering, and installation to the commercial market. Given our vast experience and range of projects created over our career, we can guarantee that we will provide your company with state-of-the-art technology and white-glove customer service and installation by highly skilled technicians, as well as the most innovative and functional commercial interior design that our industry has to offer.
Need some inspiration? Check out our Commercial Case Studies.
Our Services  |  Retrofitting  |  Our Clients  |  Contact Us  |  Submit a Project Request
OUR SERVICES
We know how busy you are, so it is our goal to provide the most stress-free installation experience possible. We take it upon ourselves to make sure your involvement and interactions with us are easy, focused, and few. Leave the hard work to our experienced Engineering Design Teams - by the time we've completed your project, you'll be satisfied and worry-free.
Whether your commercial interior design project is a teleconferencing system for your office, a small "Huddle Room," or the Primary Executive Board Room for a Forbes 500 Corporation, Gramophone Commercial Solutions will deliver impressive, eye-popping results. Our capabilities include:
∙ Conference Rooms
∙ Huddle Rooms
∙ AV Systems
∙ Interior Design
∙ Networking
∙ Digital Signage
∙ Security
∙ Automation
∙ Custom Building
BEFORE & AFTER: RETROFITTING
Because of our experience working in people's homes, Gramophone's technicians have developed the unique skills necessary and crafts necessary to work in existing workspaces without negatively impacting the surrounding environment. Our technicians are expertly trained and expected to protect existing floors and furniture, allow for dust control, and always clean up before leaving. This lets us retrofit to your perfect standards. And don't worry about staying at work late or needing to leave your office - your hours are our hours, and we are more than happy to complement your schedule.
OUR CLIENTS
No matter what you do or where you set up shop, we're able to deliver the perfect commercial solution for you and your business. Whether you need automation for a five-star restaurant, audio systems for a private recording studio, or better lighting fixtures for an art gallery, Gramophone has you covered. We provide our commercial interior design services to:
∙ Office Spaces
∙ Galleries
∙ Restaurants
∙ Houses of Worship
∙ Retail
∙ Medical Offices
∙ Studios
CONTACT US
Want to stay up to date? Subscribe to our email newsletter.
If you're ready to start with Gramophone Commercial Solutions, contact us or complete the project request form and we'll get back to you as soon as possible.
For general inquiries, visit our contact page.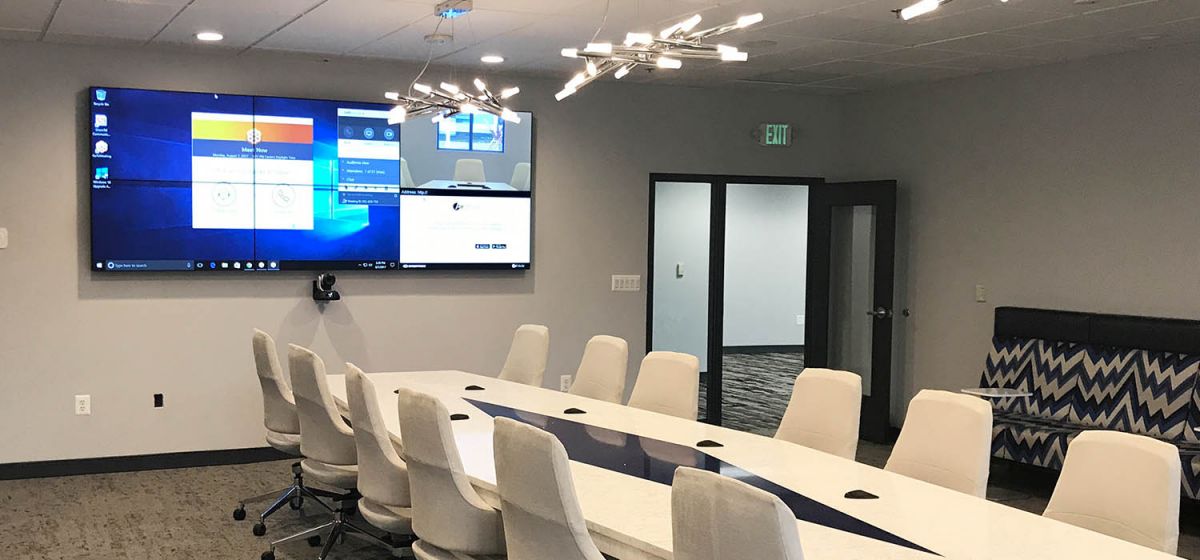 WORKING WITH US
PLAN: Combining your imagination and budget with our resources and solutions are the starting point for any Gramophone project. We begin our process by defining your vision. Afterward, your designated point of contact will listen to what you want and will work with our engineering and design professionals to create solutions that meet your budget.
DESIGN: After ideas are generated, our staff reviews them and puts them down on paper. During the design phase, we establish all of the parameters and parts needed before work begins. A properly budgeted and well-designed system eliminates costly errors, saving you time and money.
INSTALL: Our skilled technicians take great pride in their work. They take care of your space with superior attention to detail and a full understanding of the complexities that are involved in working with sophisticated technology. Our craftsmanship and care make it easy for you to relax and enjoy your workday, even during construction or installation.
MAINTAIN: We understand that technology is always changing. That is why we have field technicians who can update your system if needed, provide on-site maintenance, and repair products in-house if your equipment ever requires service.
REASONS TO WORK WITH US
COMMUNICATION: Our approach is to have all disciplines (interior design, contracting, and engineering) under one roof with offices located feet away from each other, not miles. In this way, ideas are transferred directly from the person noting them to the necessary solution provider.
COMMITMENT: Over our 40-year history, we've developed a commitment to our clients, which is accounted for in our reputation for total customer satisfaction. The sales, design, engineering, fabrication, integration, and training teams all contribute to your satisfaction, and the principles of our commitment to you are steeped into the Gramophone Commercial Solutions approach.
QUALITY: Quality in all aspects of our work has been Gramophone's hallmark since our inception. Equipment selection, proper design, infrastructure detail, and final integration all contribute to the quality, so each phase is performed and checked by certified and experienced personnel. Rest assured that a system installed by us will perform for years to come at levels above our competitors'.
DESIGN & BUILD REQUEST