THE LEADER IN HIFI SOUND FOR THE GREAT OUTDOORS
Sonance creates audio solutions for unsurpassed performance combined with the ability to preserve the integrity of your interior design with its "Degrees of Invisibility". Their philosophy is to develop original products that can be appreciated by architects, interior designers, custom installers, home and business owners alike. Sonance is the most recognized and highly awarded manufacturer in the architectural speaker and outdoor audio category throughout the world.
In-Wall & In-Ceiling Speakers

Sonance offers In-wall and In-ceiling speakers to complement any interior style and impress with high-end resolution. They believe that "speakers are designed for the ear, not the eye," which is why they invented speakers with three different "Degrees of Invisibility".
Visual Performance Series
This award-winning speaker profile blends perfectly into the wall or ceiling, comes in three shapes and sizes, multiple performance levels and is paintable to fit with any color.
Architectural Series
Sonance Architectural Series Speakers align precisely with their surroundings, while their bezel-less grilles provide a discreet aesthetic. They are the perfect mix of high performance and design.
Invisible Series
The invisible series is top of the line in architectural audio. Once installed into the ceiling or wall they will get finished over with their surrounding material, delivering ambient sound throughout your space without any visual presence.
Home Theater

Gramophone utilizes Sonance surround sound and cinema products to take our Design & Build projects to another level of entertainment. Their home theater selection consists of a Visual Performance Cinema Speaker Series with integrated cabinets, a patent-pending soundbar that offers an adjustable width to fit any flat screen between 50" and 80" and subwoofers. Sonance subwoofers are available in the visual performance series or for traditional installations with a form-factor that can be hidden from view. Each one comes with an amplifier to release high-quality bass response in each individual installation.
Commercial Solutions
Gramophone also takes advantage of Sonance Commercial Solutions Series when working on our Design & Build commercial projects. Sonance's expertise in architectural audio has allowed them to produce a line that is built with the specific needs of businesses in mind. Their new Professional Series includes a range of 70V and 100V, 8Ohm In-Ceiling, Pendant and Surface Mount Speakers. The Invisible Series comes at the same range and is a great option for businesses that don't want visual intrusion. The Sonance Landscape Series (SLS) is the perfect solution to complete a project with an outdoor space. They offer a wide range of products to cover almost any setup seamlessly.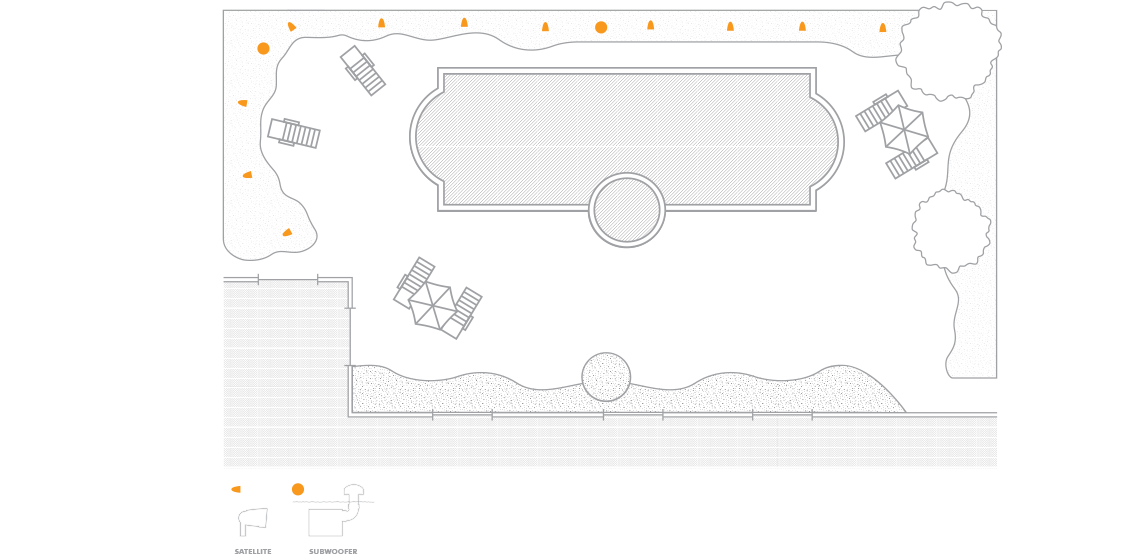 Sonance Outdoor Speaker products are weather resistant and created to keep aesthetics and sound performance up to the company's award-winning standard. The Sonance Landscape Series (SLS)  is completely adaptable to any size project and possible adjustments (growths) over time. You can pick from three sizes of Satellite Speakers and Subwoofers to complete your outdoor experience with an impressive audio performance that is camouflaged amongst plants or even below ground.

Rocks, Mariners, and Extremes

Sonance also provides a wide range of traditional outdoor speakers.
The perfect match for patios and courtyards are the Mariner Speakers that feature three performance levels in three different sizes to accommodate your personal needs. Outdoor lovers who prefer their audio device to blend in with nature will fall in love with Sonance's Rock Speaker option. Featuring waterproof drivers and internal wire connections these speakers are protected from garden tools and moisture corrosion. Sonance Visual Performance Series Extreme speakers are constructed to withstand fluctuating temperatures and high moisture. They also meet most aesthetic needs with the choice of three shapes (round, square or rectangle) and a paintable low-profile grille to blend into their surroundings.
All of these products deliver high-quality sound for years to come, unaffected by the weather.