Watch our McIntosh Video Playlist
PRODUCTS
Amplifiers
Preamplifiers
Integrated Amplifiers
Receivers
Home Theater Audio/Video Processors
Speakers
Turntables
Phono Preamplifiers
CD & Blu-ray Players
Media Streamers
Tuners
Headphone Amplifiers
Cables
TECHNOLOGIES
BLUE WATT METERS: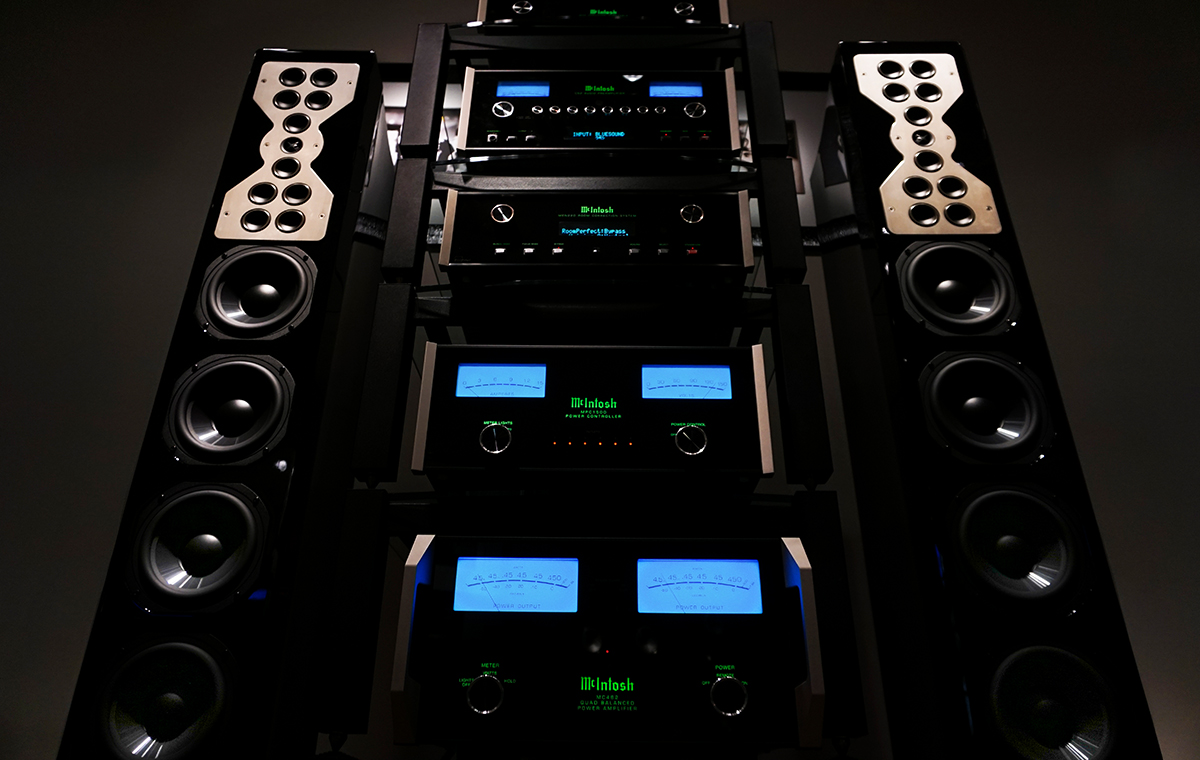 The McIntosh Blue Watt meters have become a symbol of superior quality sound. Customers appreciate both the aesthetics and the protective information that the signature blue meters provide.
OUTPUT AUTOFORMER:
McIntosh designed its unique Output Autoformer® for use in most of the McIntosh solid-state power amplifiers. The manufacturing sequence begins with coil winding techniques that have been proven over 50 years.
POWER GUARD:
Power Guard dynamically adjusts the input levels to avoid "clipping" while preventing harsh sounding distortion. The volume adjusts at the speed of light to prevent overdriving which results in better sound no matter what volume you want to enjoy.
SENTRY MONITOR:
Sentry Monitor is a fuse-less circuit which disengages the output stage before current exceeds safe operating level and resets automatically when a safe operation is restored.
GLASS FACEPLATES:
McIntosh cuts 1/8 to ½ inch glass faceplates with genuine garnet dust to diminish friction and protect your investment for generations of enjoyment.
MCINTOSH TUBE AMPs:
McIntosh distinctive tube amps are still manufactured today. Many audio enthusiasts enjoy the warmth of a tube amp. The MC275 celebrated its 50th year in 2011.
McINTOSH SYSTEMS AND PRODUCTS
McIntosh offers a variety of Systems such as the Lifestyle McAire and MXA80, Reference Music Systems and Reference Home Theater Systems, as well as a product lineup including everything from Amps, Receivers, Headphones, Streamers, Turntables and more.
Lifestyle McAire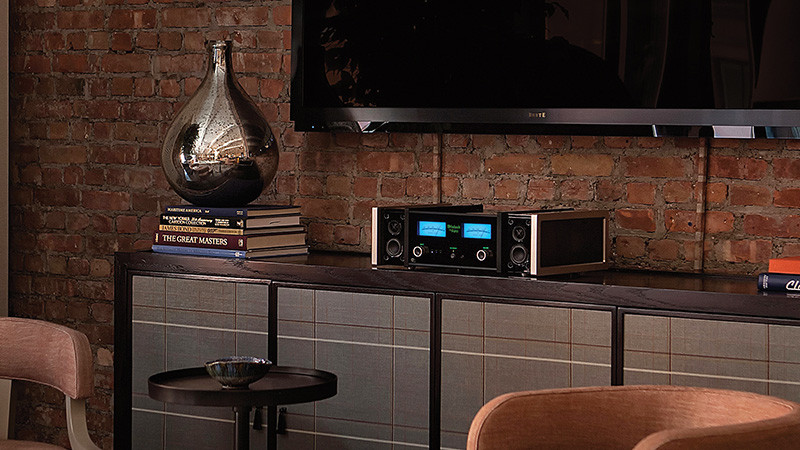 The McIntosh McAire integrated audio system delivers the legendary McIntosh look and sound quality in a compact size. It allows you to wirelessly stream music via your Wi-Fi from your Mac or PC. Utilizing a USB cable, iPod classic, and select iPod Nanos can also be connected. The McAire's space-saving design and room-filling sound makes this system versatile enough to accommodate the audio needs of any room in your home.
 
Lifestyle MXA80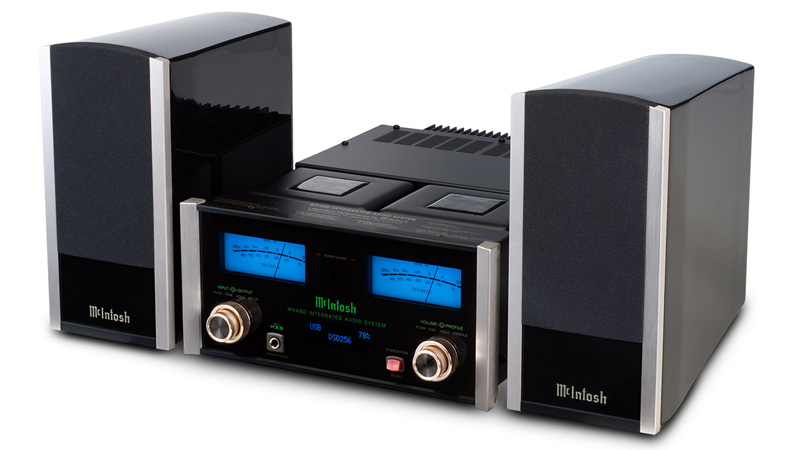 The MXA80 Integrated Audio System features a compact yet fully functional 50-watt stereo amplifier and a pair of specially designed 2-way speakers that achieve an unusually rich and full-sized level of performance for their size. Six inputs provide flexibility to connect a variety of your music sources. 
The compact size gives you choice and flexibility when deciding where to place it in your room. It makes a great audio system for your office, bedroom or vacation house.
 
Reference Music Systems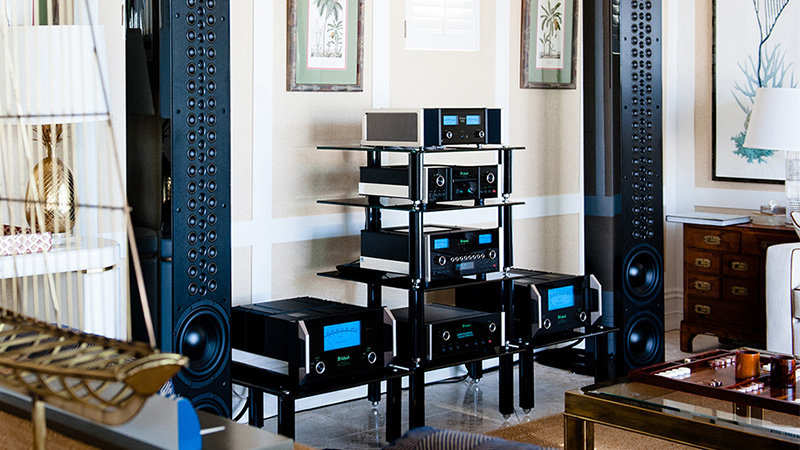 Reference Systems - that to which all others are compared. Created out of a dream and brought to reality with imagination and expert engineering, the McIntosh Reference music system delivers the closest thing to a live performance in your own home. They consist of the SoHo I, II & III, with the SoHo I being the flagship of the 2-channel SoHo music systems, this powerful system will easily and sonically fill the largest room in your home while serving as the visual centerpiece. This system includes a compilation of media players and audio enhancement products to ensure that you are experiencing your music in its truest form.
 
Reference Home Theater Systems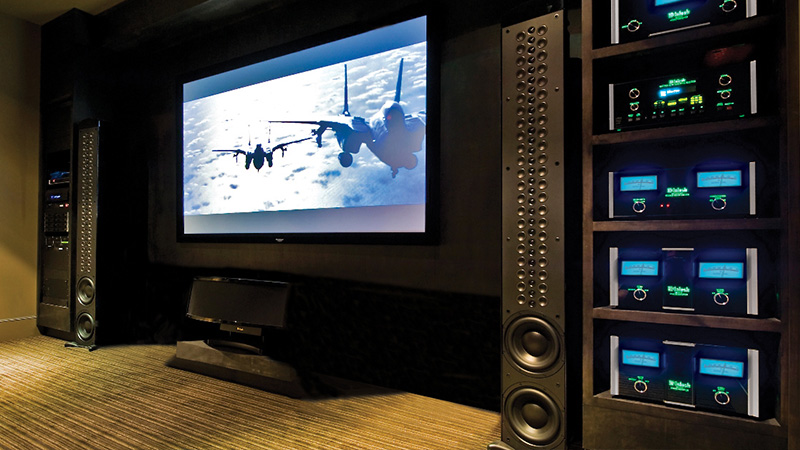 The McIntosh Reference home theater system brings the ultimate theater experience into your home. As long as you have popcorn, there is no reason for you to go to the movies! The Westchester I system pumps 3600 watts of power throughout a 7-channel surround sound audio experience and the clearest video signal that will bring the ultimate home theater experience into the comfort of your home. Those who require less power would find their perfect matches with the Westchester II or III.