FEATURED Whole Home Systems
OPERATIONAL APP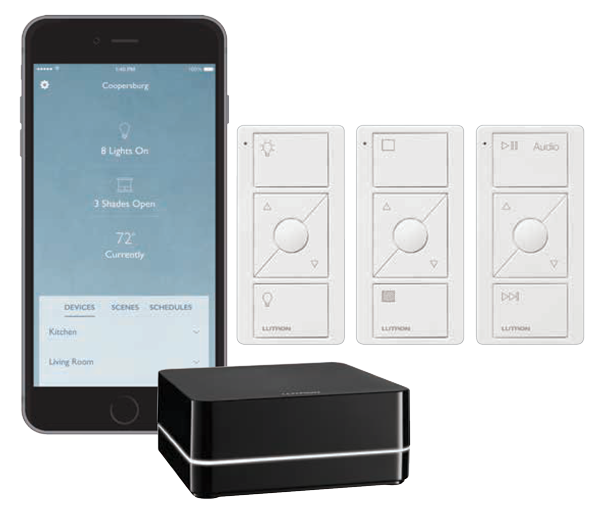 Any of Lutron's home systems are managed by the "main repeater" or "connect bridge" depending on the system. It lets you control all of your devices from your smartphone via a Luton app, anywhere in the world at any time. It additionally enables system integration with other brands.
If you need to expand the wireless range of your system, you can add a wireless repeater to enjoy control throughout your home.
RA2
When you choose RA2 Select, you're selecting a smart home system comprised of keypads, light controls, fan controls, temperature controls, appliance controls, and shades. RA2 Select was developed so you can choose the specific components you want in order to create the system that will best suit your lifestyle.
The Ra2 system is a great solution for those who want to gain control over their residential home with up to 200 devices. It enables you to schedule your lights, to either turn them on when you come home with the "Home" button or turn them all off with the "Away" button when you leave your home.
Create the perfect atmosphere with control over multiple lighting, shading and audio devices at your level of comfort - ready to be adjusted at any time!
HOME WORKS QS
Discover unparalleled total home control. HomeWorks QS, designed for exclusive and complex homes, seamlessly integrates the control of electric lights and daylight, as well as integrates with audio/visual, security, and HVAC systems.
When you choose HomeWorks QS, you're investing in a system that will redefine your way of living.
Products