CONNECTED LIVING THROUGHOUT YOUR HOME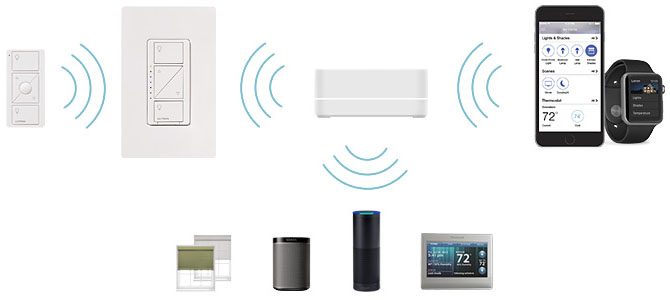 Lutron's story began in 1950, when Joel Spria, a physicist, started working on a solid-state device that enabled the manipulation of light-intensity in residential buildings. At that time such technologies were bulky and primarily used to dim stage lights. 
His innovative transistor, the thyristor,  dimmed the light by interrupting the power flow to the lamp, created less energy and was small enough to replace a regular light switch.
This simple rotary dimmer is still used in many homes and marked the beginning of the lighting control industry.
Lutron was the first to successfully mass-market the dimmer and expanded their line to over 15,000 products in the past 50 years.
Lutron is a technology-centered and people-driven company based on the founder's five principles:
Take care of the customer with superior goods and services.
Take care of the organization. (keep growth and innovative development at flow)
Take care of their employees
Innovate with high-quality products.
Deliver value to the customer.
BENEFITS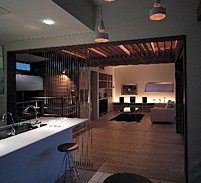 Energy Savings: Whole-home systems make it easy to dim the lights throughout your home to create ambiance and save energy with wireless controls. Install discreet occupancy/vacancy sensors to ensure lights are turned off when rooms are unoccupied.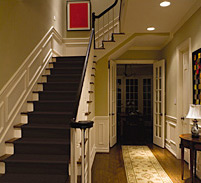 Safety & Security: Enjoy the safety and security of advanced wireless lighting control. Create a safe path of light to, through, and around your home. Connect your security system to your lighting system for an added level of assurance. Add automated shades to create privacy or protect valuable furnishings.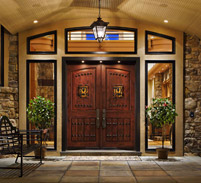 Pathway Lighting: Create safe navigation through your home. No need to walk from room to room to control each light. Press a button to illuminate a pathway from your bedroom to move easily and safely throughout your home at night.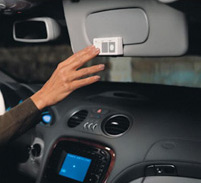 Control Lights from the Car: Let your lights welcome you home. With a lighting system, you can press a button and your interior/exterior lights turn on as you arrive home. Illuminate a pathway of light from your car and into your home. Ensure lights are turned off when you leave with a single touch of a button.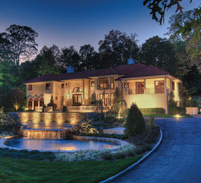 "Away" and "Vacation" Mode: When you leave for the day, simply press "Away" and conveniently leave your home exactly as you like it – all lights off, all lights on, or anywhere in between. Program a "Vacation" scene to replay your daily routine – turning the lights on and off, raising and lowering the shades – as if you were still home.
FEATURED Whole Home Systems
OPERATIONAL APP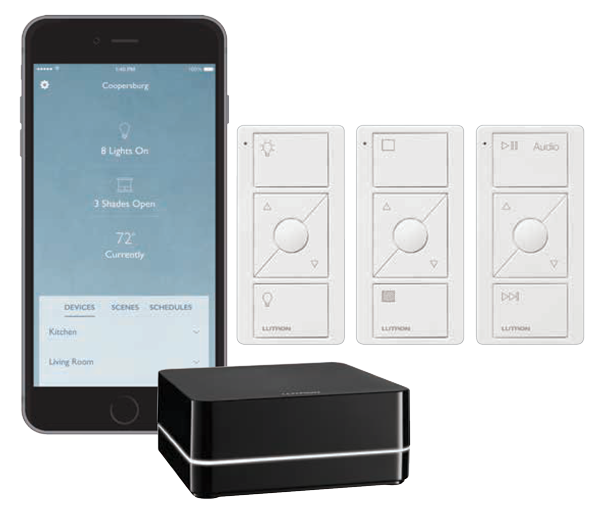 Any of Lutron's home systems are managed by the "main repeater" or "connect bridge" depending on the system. It lets you control all of your devices from your smartphone via a Luton app, anywhere in the world at any time. It additionally enables system integration with other brands.
If you need to expand the wireless range of your system, you can add a wireless repeater to enjoy control throughout your home.
RA2
When you choose RA2 Select, you're selecting a smart home system comprised of keypads, light controls, fan controls, temperature controls, appliance controls, and shades. RA2 Select was developed so you can choose the specific components you want in order to create the system that will best suit your lifestyle.
The Ra2 system is a great solution for those who want to gain control over their residential home with up to 200 devices. It enables you to schedule your lights, to either turn them on when you come home with the "Home" button or turn them all off with the "Away" button when you leave your home.
Create the perfect atmosphere with control over multiple lighting, shading and audio devices at your level of comfort - ready to be adjusted at any time!
HOME WORKS QS
Discover unparalleled total home control. HomeWorks QS, designed for exclusive and complex homes, seamlessly integrates the control of electric lights and daylight, as well as integrates with audio/visual, security, and HVAC systems.
When you choose HomeWorks QS, you're investing in a system that will redefine your way of living.
Products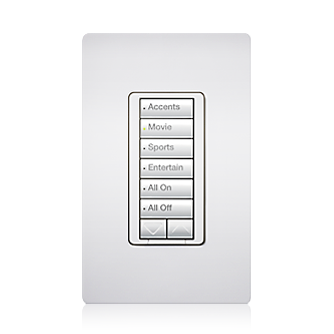 RADIO RA2
RadioRA 2 is a wireless total home control system. This energy-saving system gives you the ability to adjust the amount of daylight and electric light as well as temperature in a single room or throughout your whole home. The system also turns off standby power to small appliances when they're not in use.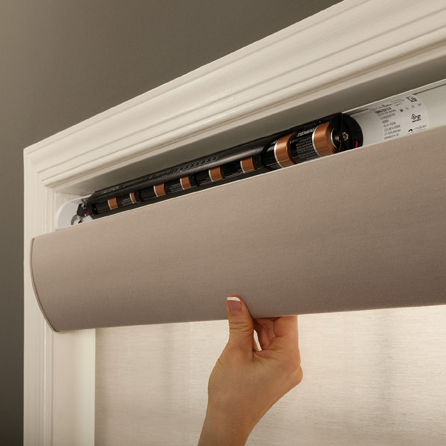 SIVOIA QS TRIATHLON SHADING SYSTEM
This is the most fashionable, flexible, and affordable motorized shading system available. It is battery-powered and offers a 3-5 year battery life for easy installation & maintenance. Available in roller shade or insulating honeycomb styles, they come in a wide variety of colors and textures to meet the functional and aesthetic needs of any space. Simply control them at the touch of a button.