focal, Listen Beyond
Focal established the first manufacturing workshop for speaker drivers in 1979 under the then JM-lab brand. Only three years later, their DB13 bookshelf loudspeakers propelled them towards the high-end audio market. In 1990, now being a leader in the Fench market, Focal began to expand internationally. They won numerous awards over the next ten years, succeeded in the audiophile world and finally got recognized within the car audio sector.
2002 was the year of changes as they rebranded themselves from JM-lab to Focal and entered jet another audio division: monitoring loudspeakers for recording studios.
The introduction of their internationally praised Utopia open-backed headphones in 2016 ultimately made them become a big name in the headphone sector as well.
DEVELOPED IN FRANCE
All of Focal's innovations are designed and developed by engineers in France. They work hand in hand with renowned designers to create lifestyle objects that are supreme in both, form and function. Subsequently, every design aspect needs to serve the enrichment of the soundstage and consist of materials that conform to the laws of physical acoustics before serving the overall aesthetics.
Technology
The company's key strength is its complete integration and quality control of the loudspeaker manufacturing process — from the design of drive units, cabinets, and crossovers to the assembly of the finished product. This delivers a consistency of performance that stands far above its rivals. Focal maintains an intense, continual program of research and development into drive-unit technologies and improving sound quality and has registered many patents. It comes as no surprise that Focal made global headlines through its innovations in technology, lead by the Grande Utopia loudspeaker, equipped with the "W" composite sandwich cone, released in 1995. Other mention-worthy technologies include the double voice coil speaker driver, the inverted dome tweeter, the K2 Kevlar cone, the Beryllium tweeter, the Polyglass cone, and the Flax cone.
FLAGSHIP PRODUCTS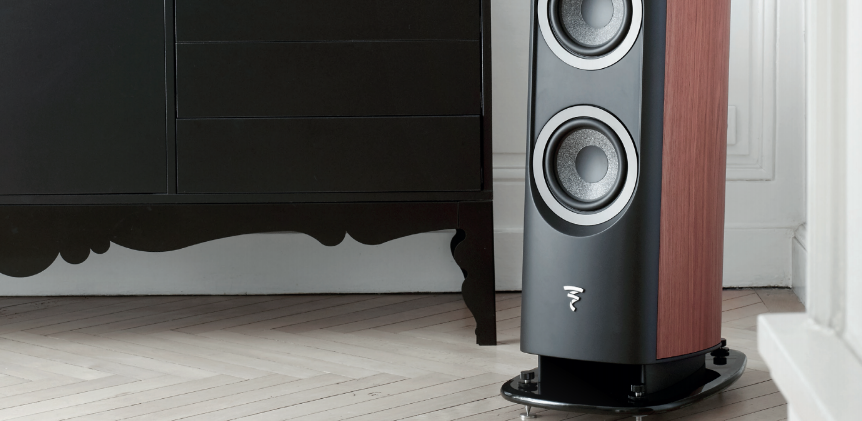 Focal's core values are base on the union of technology, mechanics, refined materials and innovative design. The combination of those attributes is what turned the following products into Focal's flagships. (Displayed in image above from left to right)
UTOPIA HEADPHONE: The model that has become a global hit in high-fidelity headphone technology.
SOPRA N°3: The longest-standing loudspeaker of the line, Sopra N°3 perfectly combines dynamics, space optimization, and harmonic richness.
ARIA: Aria's harmonic richness is the guarantee to true high-end acoustics.
DOME: Dôme is just as pleasant to see is it is to hear! Its range will enhance your living or working space.
SOPRA N°1: A true 'demonstrator', corroborating the contribution of new technologies implemented on Sopra that delivers incredible clarity and very high definition.
GRANDE UTOPIA EVO: The Grande Utopias is the most accomplished concept of Focal, the ultimate technological and musical reference.
HEADPHONES
It's a desire to take the sound everywhere that incited Focal to launch its first headphone range in 2012. The intention was to provide audiophile sound adapted to the new ways of listening to music.
This quest for absolute acoustics continues today with a new range of products, where the sound rendering is enhanced by design and comfort, two essential aspects of the perfect listening conditions. Never sacrifice sound over anything, while offering all the functionalities people expect, is a core value for Focal. It guarantees both audiophile sound and a perfectly finished product.

Once again, Focal is proving its expertise in terms of portable wireless headphones. The headphone range has recently been expanded with wireless versions that guarantee users excellent sound rendering.
SHOP OUR FOCAL FAVORITES