Video Games: Getting More Out of Your Home Theater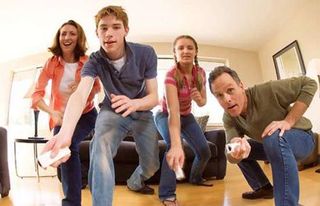 Are you into video games? Do you have kids who enjoy video games? Do you treat video games like a second class citizen in the world of electronics? Then you may be missing out on what can be a truly engrossing home theater experience. Today's HD video gaming systems provide a level of quality in graphics far beyond anything seen in the systems of the past. Some of the games even have soundtracks that are better recorded and mixed than many movies.
Although my wife is not a video game fan, even she became involved in a game I was playing recently because the graphics and soundtrack drew her into a well developed story.  She felt like she was watching a movie.  In fact, she actually wanted to watch me play and enjoyed interacting with me when I did.  Having the game system connected into my home theater system has allowed it to also create a fun activity for the whole family, and not just a diversion for me.
At Gramophone, we can help you integrate your game system into an existing home theater system or media room.  Or, if you really want to take the experience to the next level, we can help you put together a new system that will fully maximize your gaming experience.
- Josh Shobe