Upgrade your home to a permanent paradise and experience a "staycation" this summer
You go on a vacation to escape the daily grind, enjoy a new environment, and to simply relax. Work can be stressful, and sometimes you just need to get away. Well, what if you could skip all the lines, jet lag, and time spent traveling and enjoy something new at home?  Putting the money and effort that you would spend on a week-long vacation in, let's say, Florida, into a state-of-the-art home theater system from Gramophone could be just what you've been searching for!
Understanding your spaces
Before you go out and buy anything new for your soon-to-be paradise, you need to first understand the "flow" of your room; and by flow I mean the feeling, design, and layout of your space.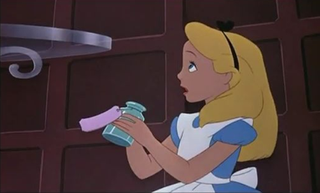 Scale and proportion should be the first properties examined.  You want to have the size of your furniture and accessories comparable to the size of your room (scale).  Don't go out and purchase an extreme Lazy-Boy fold out sectional for a 10' x 10' room. It just won't fit and you may start to feel like a character in Alice in Wonderland and her crazy encounters with the shrinking potion.
Proportion is also important because it measures the size of one object against another.  For example, if you decide to purchase a B&W CM 9 floorstanding speakers, don't pair them with a small television.  The proportion of your room will be unbalanced.
Next it's important to put some thought into where you would like to place your television, that is if, if you decide to  reorganize. Sitting too close to your TV can be nauseating (no one really likes sit in the front row of the movie theater), but sitting too far away may force you to lean forward, putting strain on your back. The ideal distance (oh, the separation anxiety!) should be twice the width of the TV itself. Keeping this simple formula in mind can make for a much more comfortable environment!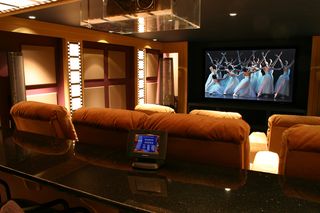 Finally, you should consider the traffic flow of your space.  Are many people coming in and out of the room? Would it be bothersome to you if they crossed your viewing area?  Maybe the fireplace is the central focus of your room.  If so, consider placing your TV above it so to keep the room balanced or integrating your television into a work of personal art, such as those produced by Vision Art, also sold at Gramophone.
The gadgets you'll need
Gramophone can provide you with all of your home theater needs, from the interior design of your room (seating and lighting) to the set up of the speakers and television.  If, however, you are looking for a simple, yet impressive upgrade, consider simply purchasing a decent television and a right and left channel speaker set. The Sharp 70-inch flat panel television is a great LED television for rooms with lots of natural light. The matte screen suppresses reflection and the network jack includes built-in wifi. The Synchrony One Tower speaker set by PSB delivers excellent sound quality for both film and music recordings. Being a pair of freestanding speakers, the Synchrony One's timeless and sleek design is a perfect start-up set that can easily be added onto.      
Putting it all together
Now that you've got your ideal staycation spot in your home, it's time to take your at-home paradise outdoors! Follow these links to read about how to throw a bangin' pool party or an amped up movie night, all with products sold at Gramophone!