TV Meet College Student, College Student Meet the Coolest TV Ever!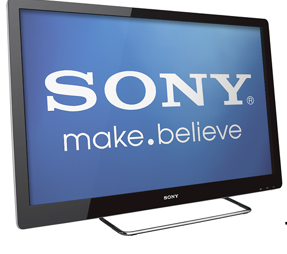 Like most college students, I am in the market for a TV, but an affordable TV. Over the past 3 months I've done my research and learned that a 720p TV, 32" or under, is not a compromise but a way to save money. Because the screen size is relatively small (and a perfect fit for my less than spacious dorm room) 720p resolution is great quality and a minor difference from 1080p. Perfect. So last week I came into work at Gramophone prepared and excited to buy my 32" 720p LCD TV, or so I thought.
Conveniently, I was introduced to the Sony Internet Connected TV powered by Google, Google TV for short. With the 32" screen, 1080p resolution and LED-LCD quality picture, my attention was certainly grabbed. I asked one of the sales guys to pretend I was a customer, and well, I'm sold. Get past the basic specs, the clean black & white streamlined design, and the uber modern metal stand, and you've still got an incredibly magnificent transition into the future. Yes, you may think I am slightly over-glorifying this TV but it really is just that cool. Here's why.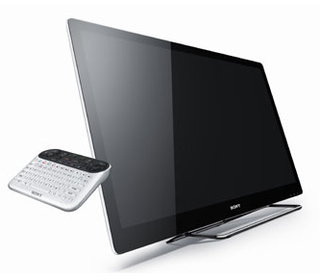 First let's state the awesome. A Google TV has a built-in WiFi receiver so it connects directly, and wirelessly, to my existing internet at no extra cost. Not to worry, there is an ethernet port just in case my dorm room internet decides to be difficult. So much for missing out on the show while I look something up on my computer, now I can multitask all on the same screen!
Google TV also has a USB port so I can take music, pictures, and videos from my computer and load them onto the TV easily with a flash drive. As for DVDs? Using any of the the four HDMI ports I'm instantly connected to my PlayStation 3 and ready to watch Blu-ray movies or show off my expert Guitar Hero skills to the guys (yes, I am a girl and yes, I do still play that game).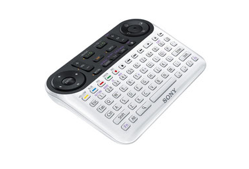 As if it couldn't get any better, I learned that a quick and free download from the iTunes App Store lets me control the Google TV right from my iPhone, iPad, or iPod touch. But after playing around with the full qwerty keyboard remote with a built-in scroll mouse that comes with the TV, I don't know if I'd even want to use anything else!
Oh did I mention the apps I can get? Yup, in addition to the Google Chrome browser, I can download and access the Android Apps Market right on the TV for increased ease and convenience. Some of the pre-downloaded apps include Twitter, Facebook, Pandora, and Netflix.    [Screen shot 2011-08-04 at 3.00.00 PM]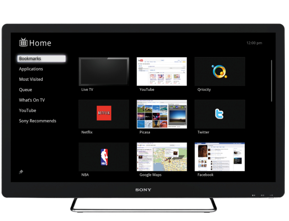 Needless to say, my love affair with Google continues, and yours can too! Gramophone will proudly feature the Sony Google TV, starting at just $299, at the Back-to-School Sale from August 15th - 31st, at both the Timonium and Columbia locations.
Gramophone, bringing affordable HD living to dorm rooms across the country.
- Julia