Top 10 Holiday Gift Ideas | Day 7: LaunchPort Inductive Charging & Mounting System
If you think you can't improve upon the iPad, think again.  LaunchPort is a revolutionary new way to mount and charge your iPad, virtually anywhere. The LaunchPort system consists of a PowerShuttle and any number of Stations. A PowerShuttle is a sleeve-style case that fits onto your iPad. There are two types of Stations:
A BaseStation is the tabletop mount and charging unit that interacts with a PowerShuttle. 
A WallStation is the wall mount and charging unit that interacts with a PowerShuttle.
A LaunchPort System requires a PowerShuttle and at least one Station.

PowerShuttle
The LaunchPort PowerShuttle for iPad 2 is a sleeve-style, soft touch black (or white) case. It securely holds iPad 2 and is used to mount to either the BaseStation and/or WallStation. It has a built-in wave guide for the iPad 2 speaker that allows the sound to be directed back at you for a better media experience. It's equipped with a Mini USB port for charging and syncing on the go. Because the PowerShuttle contains magnets, you can also mount it to any metallic surface
BaseStation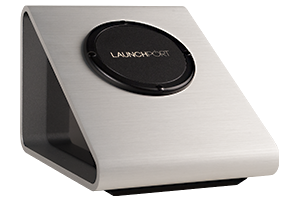 The BaseStation allows you to mount your iPad 2 to a table top to use and charge. The induction mounting and charging node provides a connection point for a PowerShuttle. Made of brushed aluminum, the BaseStation looks great with all your Apple products.
WallStation
The LaunchPort WallStation provides a home for your iPad 2 on the wall. It securely mounts and charges your iPad 2 using a LaunchPort PowerShuttle. The WallStation was designed so that anyone can install one in their home. The WallStation uses inductive charging and magnetic mounting, providing effortless mounting and charging, without wires. The LaunchPort WallStation transforms your wall into an information center, gallery, video conferencing center, or whatever else you can imagine.
---
How Does It Work?
LaunchPort uses induction which means as soon as an iPad with a PowerShuttle is mounted to a Station, charging begins immediately- without a 30-pin cable or conductive elements. Magnets are used to mount and affix your iPad in its PowerShuttle to a Station. The tabletop BaseStation only uses some of the magnets in the LaunchPort system, making it easier to grab and go. The WallStation uses all magnets in the system for secure and safe mounting. The magnets are located on the PowerShuttle case which means you can also mount it to any metallic surface like a refrigerator or work bench.
---
How do I install a LaunchPort system?
A LaunchPort BaseStation and PowerShuttle requires no installation. Simply slip on a PowerShuttle and plug your BaseStation into a wall outlet and you are set up. For the LaunchPort WallStation, installation is required. Installation is designed so that most people can perform on their own. If installation in an atypical setting, or if you are uncomfortable performing this installation on your own. Click here to view the WallStation installation video.
---
Not fully convinced?  Come check out how it works in person!