Take Your Library With You: Sony Reader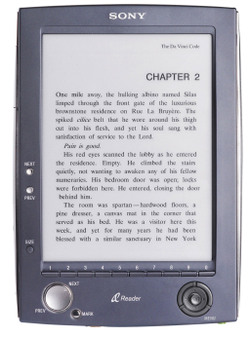 Book lover? Then you'll love the new e-Reader from Sony. It takes an entire library of books and makes it portable in a slim, lightweight electronic pad. I like to think of it as an iPod for my books. No more choosing which books to take with you when you travel. No more lugging heavy volumes through airports. Now you can take hundreds of books with you in a device smaller than a paperback. 
You simply download your favorite e-books, then intuitively select and read your books through the simple graphic interface. You turn pages by pressing a button, and the Reader bookmarks your pages and remembers where you left off so you can easily begin reading again. And you can read multiple books at the same time if you're the kind of person who likes to keep lots of books open. 
The rechargeable battery lasts through 7,500 page turns. It doesn't have a backlight, but you can purchase an accessory lamp to add to your Reader if you need it. I'm reading "Life of Pi" right now. It's a great book and you might make it your first Reader selection as well.  
Enjoy,
Brian