The Story Behind Layla and Other Assorted Love Songs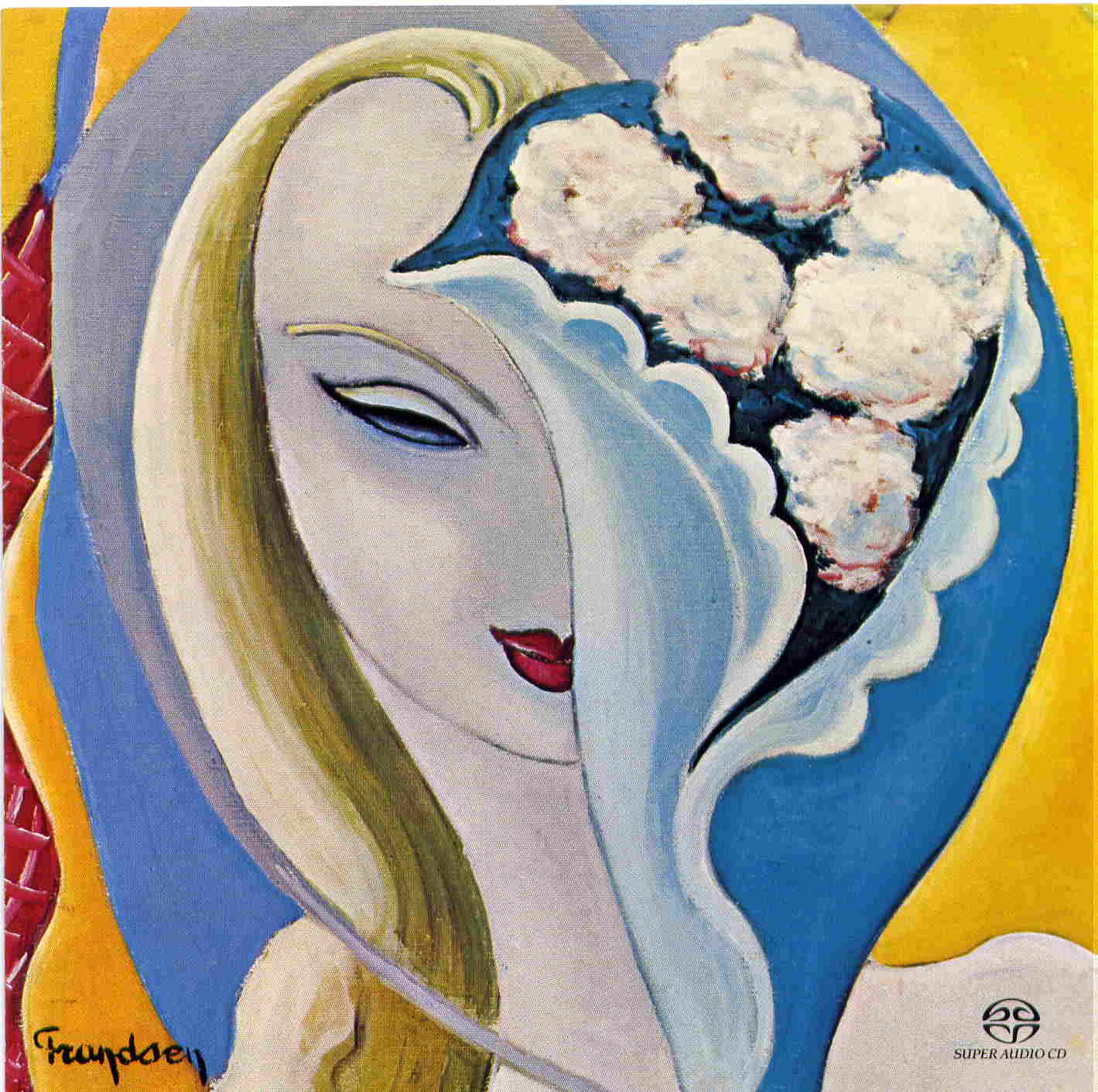 By Mike Mettler
"Born of pain and longing, their song had the power to break the unhappiness of the world." - from The Story of Layla and Majnum, by Ganjavi Nizami
"Laaaaaaaaay-la!" That instantly identifiable, gut-wrenching battle cry has rallied the bruised and battleworn hearts of countless listeners over the past 44 years (and counting). Many view that particular Derek and the Dominos song, as well as the album it anchors, 1970's Layla and Other Assorted Love Songs (Atco/Polydor), as the best mesh of lyrical guitar playing and visceral songwriting in the career of said "Derek," a.k.a. Eric Clapton. "It's purist music," believes Bobby Whitlock, the Dominos' keyboardist and a key vocal foil for Clapton on the record. "It's one of those albums you can sit down with and listen to front and back, all the way through. It doesn't make you nervous. It's not screaming loud, all feedback and mess; it's civilized music."
Layla was the signpost that certified a significant shift in Clapton's guitar style, theretofore steeped deep in the blues but centered around the psychedelic-era flash of the push-pull "can you top that?" improv muso-jamming made famous by the supertrio he manned for most of the late-'60s, Cream. Yearning for a change, E.C. found inspiration in The Band's rustic classic 1968 debut, Music from Big Pink, and Layla has a certain level of pastoral, rootsy fingerprints all over its storied grooves. "It's not so much the amount of notes he played on that album, but the feeling he invested in them," notes Robert Cray, the ever-tasteful blues guitarist who's frequently traded licks with Eric during the past two decades. "The main reason I enjoy that album is because Eric took his time to play his guitar and talk to you, the listener, with it. In a way, he made it seem like more of a conversation, taking his time to make a statement that makes sense. That's probably one of the main reasons why he got nicknamed 'Slowhand.' "
That's not to say Layla is an overall quiet record — just a more thoughtful one. As executive producer Tom Dowd, who oversaw the Layla sessions at Criteria Studios in Miami in late August and early September 1970, told me a decade before he passed away in 2002: "What came about with Layla was the true fusion of American blues and jazz with the British Invasion. Here we had two different cultures coming together — the common denominator essentially being the old blues masters — and instead of clashing, their styles met head on. And it kept on growing, like topseed."
Indeed, much like a fine bottle of red wine, Layla gets better and more opulent as time passes. Each track carries the listener on a wrenching emotional journey, taking inspiration from the epic 12th-century Persian poem The Story of Layla and Majnun to chronicle the deep, then-unrequited love E.C. had for George Harrison's wife at the time, Pattie Boyd. From the delicate declaration "I Am Yours" to the one-two gutbucket punch of "Why Does Love Got to Be So Sad?" and "Have You Ever Loved a Woman" to the ramble-tamble blues jam of "Key to the Highway," Layla deftly captured the raw-nerve touching of many personal, heartfelt bases.
The core band of Clapton, Whitlock, bassist Carl Radle and drummer Jim Gordon had already laid the Dominos groundwork in the summer of 1970 while working together on the sessions for George Harrison's seminal All Things Must Pass, but one final element helped make Layla truly indelible. Call it "Ingredient Duane" — i.e., Allman Brothers lead guitarist and spiritual guiding force, Duane Allman. While working with the Allmans on their second album Idlewild South at Criteria Studios that July, Dowd took the call that forever cemented Layla's deeper course. "I knew something brilliant was going to come out of it," he recalled. "Eric had called me to set up the studio time for the Derek sessions, and when he heard who I was with — 'You mean the guy who plays that killer solo in Wilson Pickett's "Hey Jude" cover?' — he flipped. Normally I don't take calls when I'm in the studio, so I started apologizing to the boys. When Duane found out Clapton was on the line and was heading down our way, he wanted to know if it would be all right if he could come by and watch him record. And I remember telling Duane, 'I'm sure you and Eric will hit it off well.' " (Er, slight understatement there, Tom…)
The other Dominos knew something remarkable was happening once the Allmans' ace slideologist joined the recording team in the studio. "I knew Duane; we were friends. He was excited to be involved in this project," enthuses Whitlock. "He was into it. Duane was like a shot in the arm — he fit the band like a glove. His playing was so simple, so tasty. Duane just enhanced it. It was all simply recorded, with minimal overdubs. We approached it like we were playing it live. Everybody pushed each other in a positive way."
Just one listen to the cutting-heads guitar interplay on the biting "Tell the Truth" and the hopeful pleading of "Anyday," and one can glean the magic that was in the Criteria Studios air. Few know this tenet better than modern-day slide maestro Derek Trucks, an Allmans progeny named after the album's de-facto bandleader who joined E.C. on tour in 2006 and played a number of sacred Dominos tunes onstage with the man himself. "I think if Duane had not been there, Eric's playing would not have been as raw and personal," Trucks observes. "There's a real alchemy there. And it's a great connection. You can feel Eric being alive again with Duane. That whole record is just raw nerves, in every direction. Eric is being pushed as a musician and as a writer, he's being pushed emotionally as a bandleader, and there's nothing safe about it. Duane and Eric were coming from two different places and yet had so many of the same influences, same loves, and same passions musically, and it was a pretty amazing collision course they were on. They brought out the best in each other. At the end of the day," Trucks concludes, "that's the music you want — where you feel it's nobody hiding, and it's just emotion. And Layla is unique that way. It's a collision of all of those things."
And that distinctive collision contributes greatly to Layla's ongoing impact. Elliot Scheiner, the noted engineer/producer and surround-sound mixmaster (Steely Dan, Eagles, R.E.M.) who did the 5.1 mix of the album that finally surfaced in the five-disc, one-LP Layla 40th Anniversary Super Deluxe Edition box set in 2011 (Polydor/UMe), has seen the record resonate with listeners of all ages. "It's a seminal piece of music, just like Queen's 'Bohemian Rhapsody,' " he points out. "People grew up with it, and that music continues to be passed on to the following generations. Not all music gets passed on, but Layla does. It has that kind of impact on people."
For those who worked on it, Layla will forever remain a career highlight. "Layla was the best album I'd been involved with since [1959's] The Genius of Ray Charles," declared executive producer Dowd. "Man, that album left a chill on me. And once it started gaining momentum, it became the national anthem." Summarizes keyboardist Whitlock, "It's all part of a bigger picture now. The important thing to remember is that Layla the album touches people in the right places in the right way." Four decades on, the riveting soul-laid-bare touchstone that is Layla just keeps on growing.