Sonos: Simple, Smart, and Wireless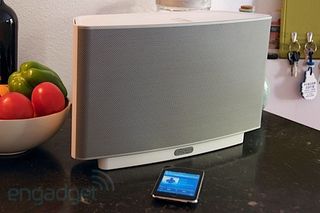 I'm all about music. Anytime, anywhere just play the right song and I'll be pacified for hours. But if you're like me, you hate all the clutter that music systems can bring. Excess wires bulk up behind A/V furniture...or even worse, they're visible (*insert gasp here*)! So I'll usually resort to my laptop and just carry it around the house with me. But laptop speakers don't do my music justice. Last week, however, when I was introduced to the Sonos wireless music system at Gramophone, my perception of multi-room music streaming changed forever.
The Technology Behind the Speaker
Sonos made white technology streamlined and sexy before Apple. From the smallest Bridge, to the fully integrated Play:5, every Sonos product is crafted with appearance and placement. So with looks in mind, how does the Sonos music system actually work? Well, it all depends on what you want to do with it. 
Let's say you already have a stereo system. You've got a great amplifier and a wonderful set of speakers you've kept since those bachelor pad days. What does Sonos have to say to that? "Awesome! Great! Let's work with it!" With the Sonos Connect, you can easily connect your home theater to the device without any added wires, cords, or bulky electronics. Now you're ready to start wirelessly streaming music from your smartphone, iTunes library, or any Internet radio station. 
But let's say you're starting from scratch. You've just moved into your first apartment, and all you have is a pair of speakers you took from the basement. Don't worry! Sonos doesn't judge! The Connect:Amp comes fully prepared with a digital amplifier and a simple connection to your speakers. And if you want to stream your music to, let's say, your bedroom, you can easily integrate a Sonos Play:5 which comes packed to the core with 5 speakers, an amplifier, and the ability to wirelessly connect to other Sonos devices. Imagine the possibilities!
The Controls
Once you've set up your Sonos system, it's time to start controlling your experience. Download the free app from the iTunes App Store and you're instantly connected to all your music. Browse music online or play your favorite song on your music library. And because all or your Sonos devices are wirelessly connected, you can control the song playback and volume collectively or individually for each Sonos Player. 
It's time to start thinking about your music's true potential. With Sonos, "unlimited" can be your new favorite word. 
-Ela