A Scrapbook for the Digital Age?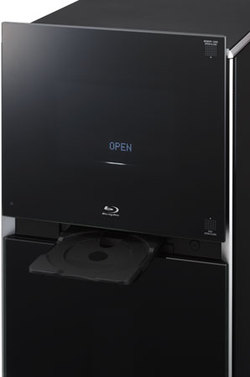 When I first heard about the Sony Home Entertainment Server, I was non-plussed. Sure, I like the way it stores up to 200 DVDs including the new Blu-Ray high def discs so you can access your movie library through one location. And, it's great that it can store up to 2,000 albums. But we've seen this kind of thing before. The Kaleidescape system (featured HERE on the blog) does almost all of this even better so long as you're willing to pay the price. But here's what got me to say "Wow!" about the HES-V1000: besides being a very conveninet way to manage movies and music, it's the coolest management tool for digital photos I've seen to date. Margey (my wife) has this on her Christmas list and she says she hates technology.
You can load up to 20,000 digital photos on this server, then create custom slideshows using supplied graphics and backgrounds, all synced with music from your own digital collection. Then you can display your slideshows directly on your compatible TV. It's really nifty, and it gives me a place to stash all the photos from the digital cameras my entire family takes everywhere.
Your kids will have hours of fun creating digital scrapbooks of themselves and their friends complete with their own soundtracks. And it's great for us to create custom shows for family and friends. And here's the ultimate: at the touch of a button, you can burn any of your slideshows right to a disc to present to your guests and friends. Finally, Sony's created an end to the digital photo black hole. 
Enjoy,
Brian