Part IV: Who Are The Gramophonians? Meet Sue.
Say hi to Sue, the happy-go-lucky "c[h]ic" who rarely can be found in the same place in the office every day.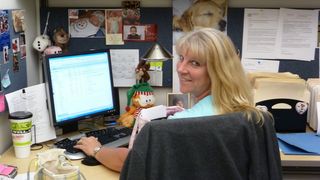 Q: What does your job at Gramophone entail?
A: Jack (or Jill) of all trades. I'm the Custom Installation Coordinator, or "CIC" (pronounced "chic"!), which includes managing the warehouse, scheduling, checking and processing new jobs, and following up after the installations are complete.
Q: What do you usually have with you at all times?
A: My cell phone.
Q: What is the biggest challenge you have faced in your position?
A: Meeting all the demands of others because the jobs generally all funnel down to me. I have to stay positive and "roll with the punches" as the song says.
Q: Favorite color?
A: Everyone here knows my favorite color is pink. Funny story: I told my husband and his friends I wanted to paint my motorcycle pink and they wouldn't let me! So I told them since they wouldn't let me do that, I was going to get my hair died pink instead. As a result I currently have a pink streak in my hair!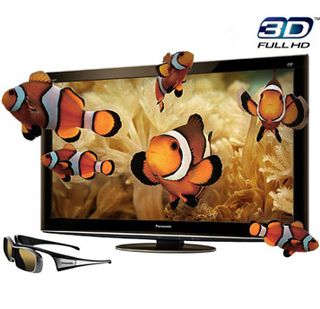 Q: What product would you most like to have that Gramophone offers? Why?
A: The plasma Panasonic 65" (on left). My husband would like to get rid of our monster television and get a more up-to-date one to put on the wall.
Q: If you could travel anywhere, where would it be?
A: I have never flown before, so I would like to go to Australia to see the Koalas because I am a bear collector.
Q: Describe Gramophone in one word.
A: Exciting. The products and showrooms are exciting, and [in regards to my job] there is never a dull moment!