Part III: Who Are The Gramophonians? Meet Gus.
You may have seen them installing a television or sound system in your home, but do you really know who these Gramophonians are? The employee spotlights on our blog will showcase the lives of various employees at Gramophone. Take a closer look each Friday as summer intern Laura Forrester divulges classified information about the antics of her new fellow coworkers.
---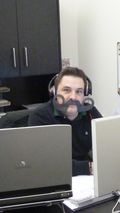 Meet Gus, a goofy guy who is always hard at play (but harder at work) in the office next to me.
Q: What is a typical day for you here at Gramophone?
A: I'm the CAD technician, so no day is a typical day: every day is an adventure. I need to prepare drawings for the installers, call vendors, and take care of logistics of designing the theater after it leaves the interior designer's desk.
Q: Describe your favorite part/thing you like most about working for Gramophone.
A: I'm a big nerd, so I enjoy learning about the technology of the industry and I get to draw all day! How awesome is that?!
Q: What is your favorite artist to listen to? What kind of device do you usually listen to music on?
A: Morcheeba; iPhone
Q: What was your most embarrassing moment at work?
A: I jumped off the loading dock with my mountain bike and broke my wrist. 
Q: What product would you most like to have that Gramophone offers?

A: The Wind speakers by Totem Acoustic (pictured on right). I fell in love with them when I first started working here. Listening to them is like being at a concert/symphony. They are probably the truest sounding speakers I've ever listened to.
Q: What is your favorite food?
A: I love everything, I don't discriminate.
Q: How would your coworkers describe you?
A: Easy-going, helpful, cooperative, and funny.
Q: If you could travel anywhere in the world where would it be and why?
A: Greece because I was born there; but somewhere I haven't been would be the rainforest in Brazil to live in a tent in the canopy.
Q: Why Gramophone?
A: I've always wanted to do theater design; I love building furniture and drawing. Gramophone has a fun work environment and there's a lot of collaboration between the employees.