Part I: Who Are The Gramophonians? Meet Laura.
You may have seen them installing a television or sound system in your home, but do you really know who these Gramophonians are? The employee spotlights on our blog will showcase the lives of various employees at Gramophone. Take a closer look each Friday as summer intern Laura Forrester divulges classified information about the antics of her new fellow coworkers.
---
Meet Laura.
First and foremost, I would like to introduce myself. My name is Laura Forrester and I am one of the summer marketing interns for Gramophone.
Fun facts about me:
I am a rising senior at High Point University (basically a country club with classes thrown in somewhere, according to my supervisor and co-intern).
I am a marketing major and Spanish minor.
The mission trip I took to Guatemala was the best experience of my life, but was also when I learned not to let the rain water in third-world countries get in my system.
I like pretty much anything outdoors (kayaking, hiking, swimming, playing sports), but I hate bugs. I know, I know. Typical girl.
Since my initiation into Phi Mu Fraternity, I have taken a liking to the color pink and Lilly Pulitzer.
I am not good at writing these kinds of things because I do not have "favorites" of many items. I enjoy food, movies, books, and music. All kinds.
Things I have learned at Gramophone so far:
Do not get near the loading dock as several co-workers have interesting stories...that include the loading dock.
Always ask to hear stories – my co-workers are friendly and hilarious.
I shouldn't be afraid to ask to "try out" the equipment in the showrooms, of course I can.
Gramophone is a fun, relaxed environment; and we want to show that to everyone!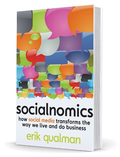 I actually use elements from my class textbooks in the real world, such as Socialnomics, by Erik Qualman (pictured on right).