For the love of music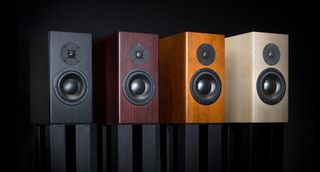 I love listening to music. I love great sound systems. And I get to do both as part of my job. After over 35 years of doing this though, it takes a lot to impress me. 
I recently brought home a pair of Totem Mani-2 Signature speakers.  On the surface there's nothing all that special about these speakers. They're a compact cabinet, 2-way speaker with a small woofer. I've heard hundreds of speakers like that. Some have been good, some have been very good, some have been excellent.
The Mani-2's are in a class of their own. I've spent more time enjoying listening to music at home in the past month since I got these speakers than I had in the previous year. I've been playing old vinyl, CD's, music from my music server, everything and anything. It all sounds better than I ever remember.
So if you want to bring back the joy of listening to your favorite music you need to hear these speakers. We've got them on display in our showrooms in Timonium and Columbia. Dust off your favorite music and stop by to hear how great it can sound. 
Brian Hudkins