A King And His Castle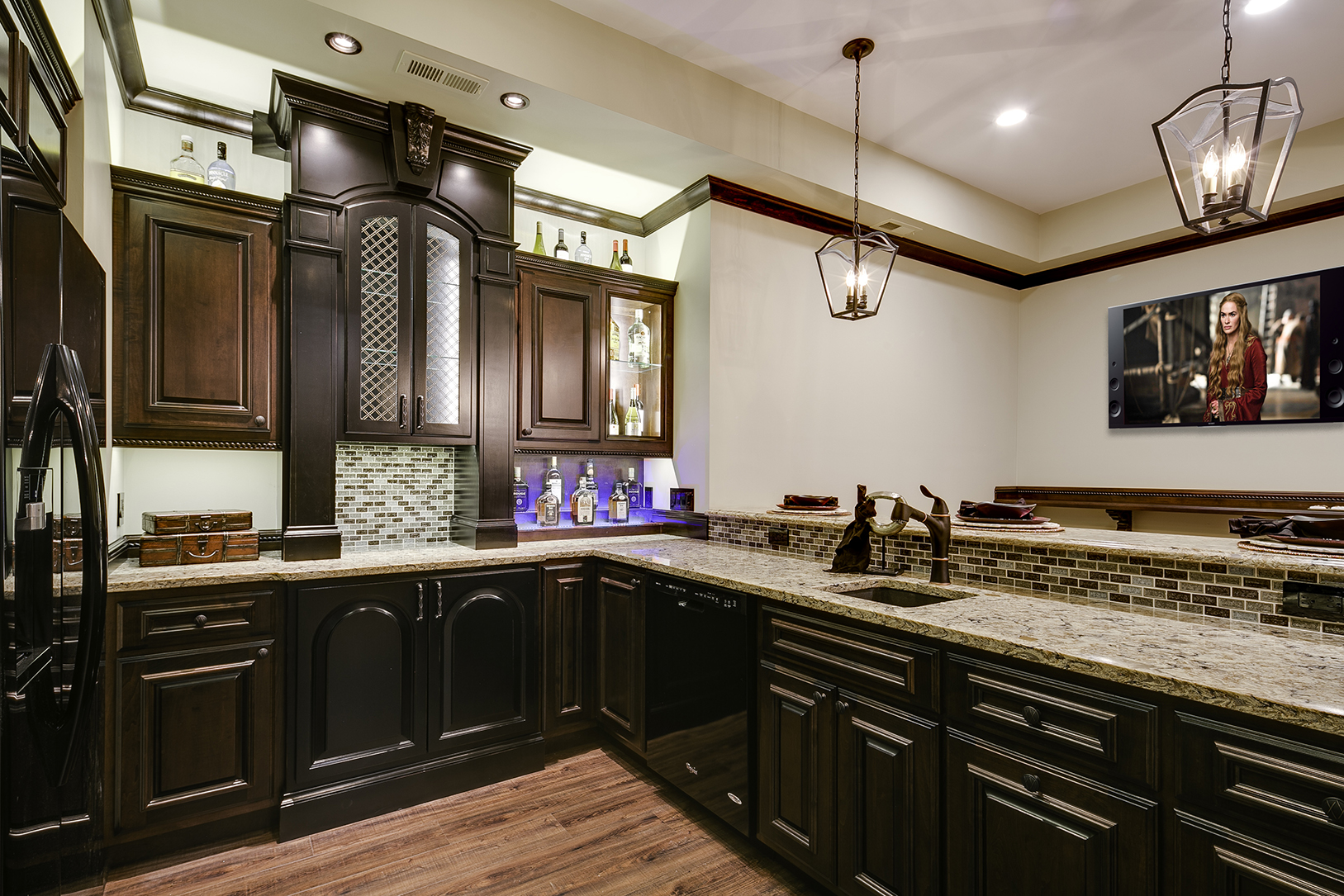 Gramophone had a wonderful opportunity to redo an Old England enthusiast's basement from scratch. Custom millwork, lattice features and dark, large scale furniture helped authenticate the look of a medieval age inspired basement, an aesthetic that pulled together both a bar & kitchen area and an upscale but comfortable TV room.  Check out the case study here.
---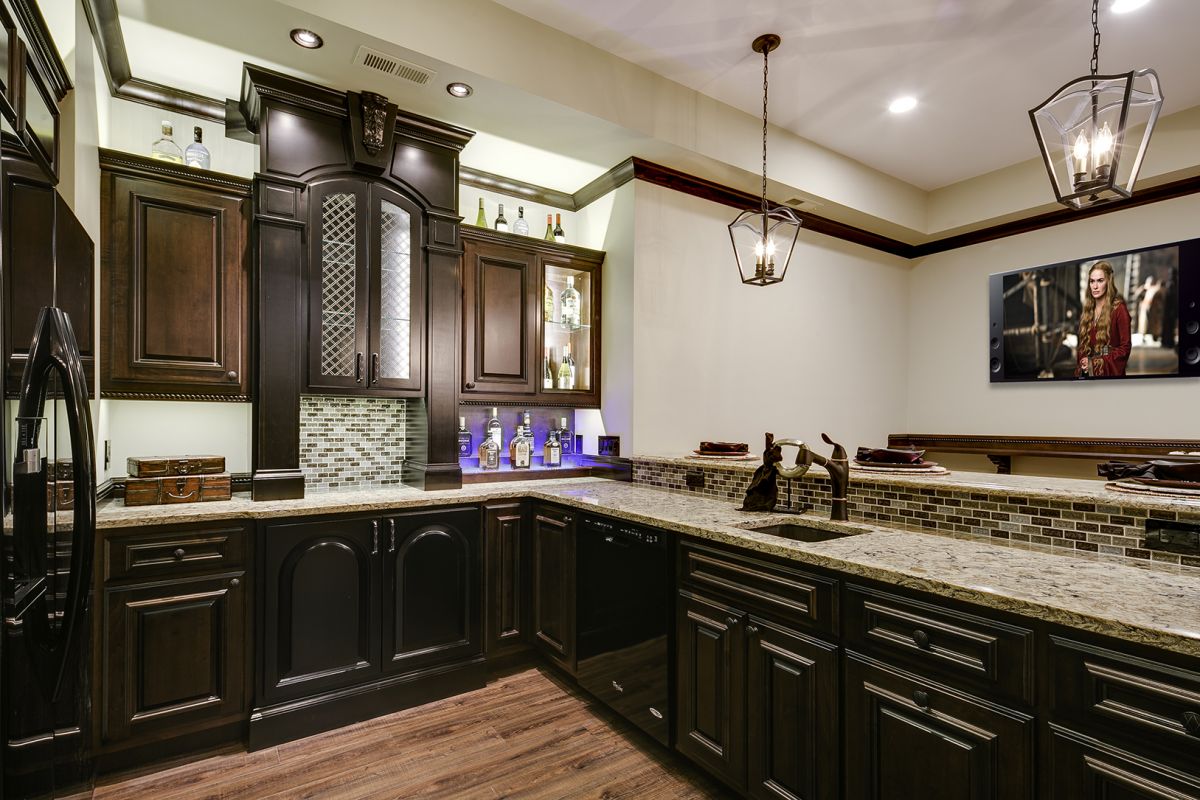 After attending Gramophone's biyearly 21st Century Home Event, the client was highly impressed by our product selection breadth of services, and professional and friendly staff. After buying their new home, the client and his wife unfortunately discovered mold and mildew in the basement that was so severe that the drywall had to be removed and the space was reduced to the studs.But instead of seeing this as a problem, Gramophone saw the opportunity that had just been created: the client now would be able to create his dream entertainment space without having to work with pre-existing structures. The client agreed to a meeting, and was impressed that we followed up promptly, and that we gave him a completion date, unlike other contractors he had contacted.
Coming into the project, our client really wanted a space of his own in a house otherwise decorated by his wife, a commercial interior designer, to both impress guests and clients, as well as to use as a personal escape after a hard day. A medieval-era enthusiast, the client was fascinated with the idea of a basement imbued with old English style. From the kitchen and bar area, to the living room and office, Gramophone's interior designer made sure to incorporate heavy, masculine millwork, lattice elements and antiquated accents. Even the kitchen was designed with counters and cooking stations built and installed around an originally single piece of furniture: a black, glass-paneled cabinet that serves as the inspiration for the rest of the kitchen.
In contrast to the older architecture and interior design, our client wanted a modern, convenient way to easily update the A/V systems throughout the space with wiring that could be easily accessed without damaging the walls in the future. Rather than sacrificing space and the expansive aesthetic of the basement, our team suggested putting the drop-down ceilings to good use and installed conduit wiring instead for simple access that would also remain damage-free.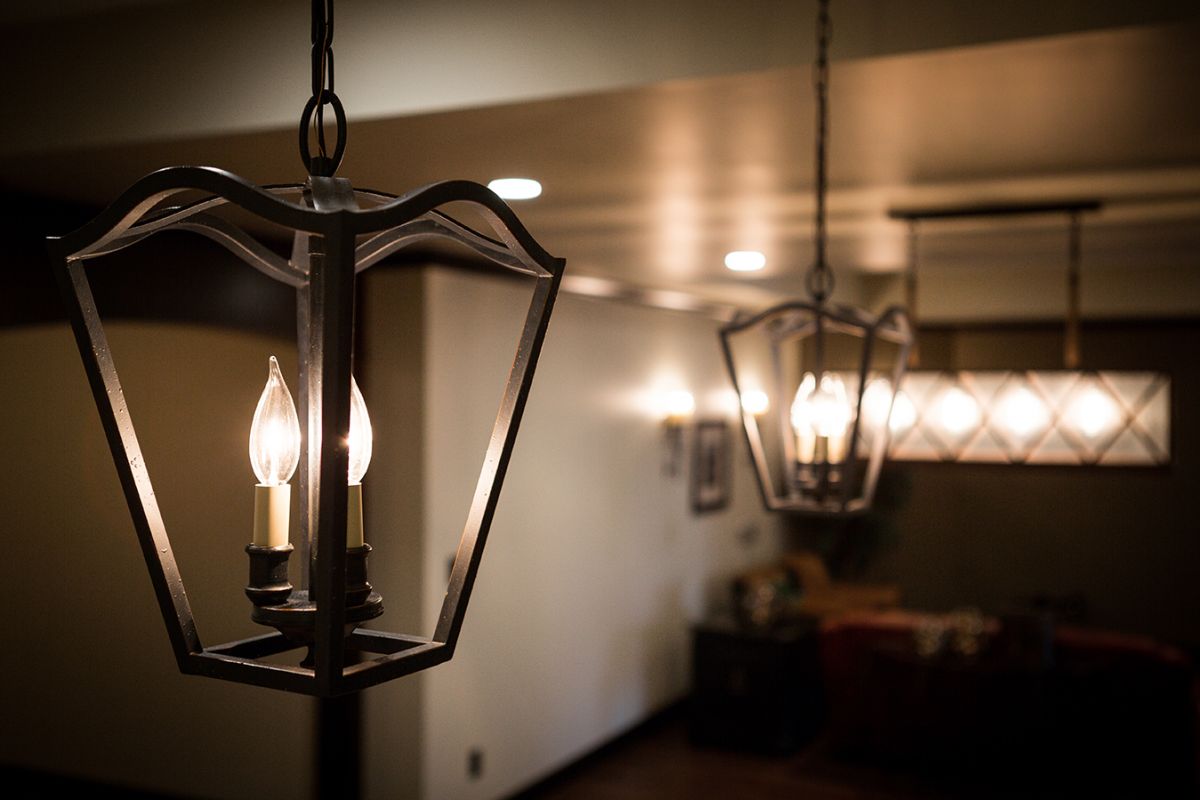 Lastly, our client, also a hobbyist and fan of collecting and painting medieval figurines, also desired a dual craft and office space. Gramophone installed gorgeous cabinetry -- in a style that mimicked the design of the kitchen -- for storage of our client's  tools and supplies.  The Gramophone team takes a great deal of pride in our ability to meet the needs of our clients, and this space does just that through a combination of beauty and functionality for a well-organized space. A stone countertop serves as a workspace for our client, as well as allows the design to flow through the entire entertainment space. Office furniture, as well as a game table, and wall-mounted television provide all the additional functionality the client desired.
Throughout the process, our team tries to make what can be a stressful process no longer stressful, but fun.  And after the space was complete, our client was extremely pleased with our work, and is glad to have a space of his own, that reflects his personal style, for both leisure and business. Gramophone received three thank you letters to our Design & Build team afterward. "Thank you for all your hard work!" one read. "Our basement is absolutely stunning thanks to your incredible workmanship."