Joni Mitchell's Blue - An Emotional Masterpiece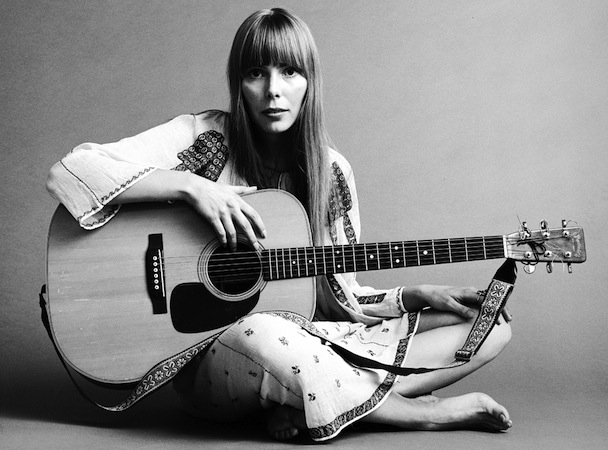 It's the season for red, white, and Blue. Joni Mitchell's Blue can be found on many music and audio critics' Greatest Recordings lists for its musical brilliance and recording quality. Lifelong audiophile and music historian Ken Swauer tells the intensely personal story behind the Mitchell's music.  
By Ken Swauger
---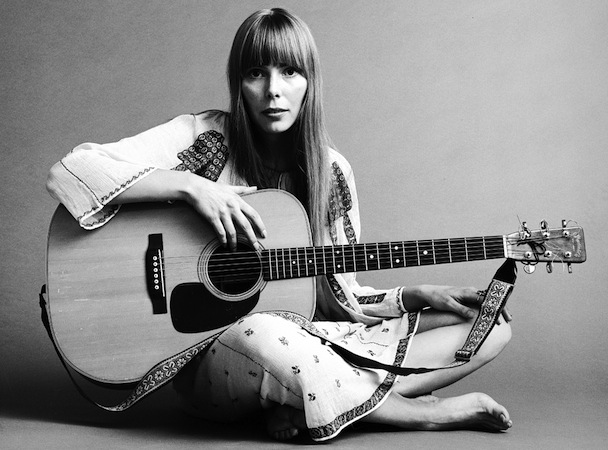 In June of 1971 Joni Mitchell released her fourth album, Blue, a deeply personal work that marked her return to a recording studio after nearly two years of introspective absence.  Accompanied by such luminaries as Stephen Stills and James Taylor it has become one of the most revered records in popular music. Rolling Stone magazine awarded her the highest ranking for a female artist by placing it as number 30 in its 500 Greatest Albums of all Times listing. It contains songs that are anguished laments about her failed love affair with Graham Nash as well as examinations of her bittersweet relationship with James Taylor.
After hearing it for the first time, her friend Kris Kristofferson warned her that she was revealing too much of her inner self. But this kind of soul-scraping was exactly what she wanted to share with her listeners. For Mitchell the act of creating is predicated on experiencing a situation, recognizing its effect on her life and then expressing her feelings through song. Living in Los Angeles she had felt stifled by her notoriety and her inability to be an anonymous observer. She had confided to author Sandra Shevey, "I've always been plagued by a fear of success: that it would be a fishbowl". When she and Nash lived in a small house in Laurel Canyon, the New York Times had sent a reporter to catalogue all the antiques they had in the house, giving readers a detailed look at the couple's "flower children" lifestyle.  This kind of scrutiny drove her to cancel concerts at both Carnegie Hall in New York and Constitution Hall in Washington, D.C. and pushed her to escape to Europe. 
At this early stage in her career she told a reporter "When I retired I felt I never wanted to play in front of people again – ever." To be on stage and perform a song that plumbed the depth of her feelings and then have an audience applaud seemed strange and unacceptable to her. She was earning a very good living composing and letting other people record her work, tempting her to give up concerts and recording altogether. Fortunately for us, her decision to get away and spend time living a less hectic life such as living in a hippie cave commune in Crete and helping sail a friend's boat through the Panama Canal, renewed her enthusiasm for the performing life. She felt revitalized and went on to compose some of her most mature and confident songs.
The result is Blue, a recording that gives the attentive listener a true window into the artist's soul. It is an artistic effort that The Atlantic called "The greatest relationship album ever." This is musical communication at its highest level, one person writing and singing about missed opportunities and collapsed dreams giving listeners an opportunity to process the lyrics within the context of their own lives.
For this symbiotic exchange to work best the audio system must be able to faithfully reproduce the nuance of Joni's voice, allowing you to feel all the emotion packed within the song. Like a poor language translator an audio system that veils inner details or adds coloration robs the listener of the ability to accurately understand Mitchell's emotional intent.
When you listen to Blue's first track, "All I Want" on your <brand name here> system you'll hear all her wonderful vocal overtones clearly displayed for you. As her voice soars and sweeps through each melodic line the complete freedom of coloration will allow you to hear this historic performance exactly as it was intended. The other important contribution accomplished by your <brand name here> system is the creation of a lifelike soundstage in front of you. On "California" you can hear each instrument clearly arranged on a stage in front of you.
The best version to find is the superb reissue done by Warner Bros on 180-gram vinyl. Mastered by Steve Hoffman and cut by Kevin Grey, using the original tapes recorded by master engineer Henry Lewy, it does complete justice to a rare moment in the life of one of the most influential artists in music. It's a must-have record for any serious music lover and/or audiophile.
Accolades for Blue:
"500 Greatest Albums of All Time."
 Rolling Stone
"All Time 100 Albums."
Time
"25 Albums that Represented Turning Points and Pinnacles in 20th Century Popular Music."
 New York Times
"100 Greatest Albums of All Time."
VH1
"Greatest Albums of All-Time by a Female Artist."
Q
1999 Grammy Hall of Fame inductee
Joni Mitchell's Blue is available on CD, HDCD, hi res digital, and 180 gram vinyl formats. Get your Joni Mitchell vinyl from us at Gramophone!