Gramophone Provides Needed Resources to Local Volunteer Fire Company
When the Lutherville Volunteer Fire Company (LVFC) was in need of an LCD TV screen to implement their newest situational awareness program, it was Gramophone who stepped up to the plate to donate and install the TV. As Brian Hudkins, president of Gramophone, says, "It was just the right thing to do."
The situational awareness program allows LVFC to monitor traffic, weather, and local alerts in real-time, which allows them to respond even more promptly to calls ranging from: Structural fires involving residences and businesses to medical emergencies and vehicle accidents to rescue situations, as well as providing assistance in non-emergency calls. "Many people think that our products and services serve only for entertainment purposes, but when implemented correctly, they also provide the functions of safety and security for both homeowners - and in this situation: firefighters!" Hudkins says.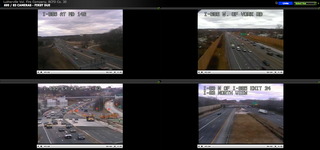 So how does it work? Michael Walker, head of the Technology Committee at LVFC says, "We have software running in the background called VueTOO. VueTOO allows for viewing of multiple sources; just about any source of information can be displayed on up to 16 windows inside a single 'situation page' on our screen." For example: in one section of the LCD TV, viewers can see the video from local traffic cameras, while in another section, the current weather and other local alerts are displayed.
When a call is reported to LVFC, one of the first responses is to identify a route that will be the fastest and safest. The center of this response now revolves around the TV screen, which is displaying the video feeds. 
Ultimately, the LVFC will be expanding to incorporate Digital Signage into the Engine Bays as well as increasing the number of sources to allow for faster response times. Automation of other items is also in the works: from engine bay lights automatically turning on in response to a call to the Klaxon's fire lights responding automatically on the 2nd and 3rd floors as well. Walker says, "There are many complexities and costs associated with this 'bolt on' potential, and we will seek ongoing community support."