Escient FireBall: Media Manager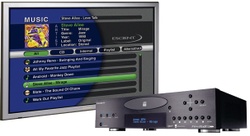 Everyone who sees the Escient FireBall music management system has the same reaction I did: this is the coolest way to enjoy your music collection. The FireBall is a smart hard drive dedicated to managing your entire music collection so you never have to touch a disc again. 
Here's how it works: You simply load your CDs into the FireBall and it stores them on the hard drive. Then, it automatically categorizes and labels them by genre, artist, title, etc. Use the FireBall's unique onscreen menu to sort, organize and play up to 1,200 CDs. Create custom playlists, groups, and genres. And you can even burn CDs or transfer the collection to your MP3 player.
Enjoy, Brian