From The Desk of Guest Blogger: Mick Lee from Z104.3
Being a radio DJ I think it would be pretty obvious, but I'm a big music/audio dude. And, I get so excited at the thought of even stepping foot into Gramophone's huge showroom….so when I heard about Peachtree Audio's musicBox, I wanted to be one of the first to try it out! My friends at Gramophone set me up with one to try last month, and it was hard to let it go when the month ended. Such amazing audio quality (which is typical with all of Peachtree products).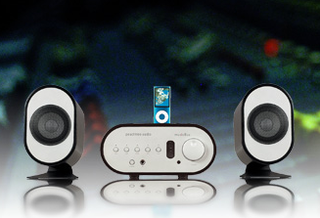 It's sleek, shiny, and small enough to fit on any shelf….but packs a punch with clarity and volume. With the iPod dock on it, I was able to connect my iPod and iPhone (yes, the tech geek that I am has both) instantly and enjoy music at any moment of the day. Great to just chill, or for background music when I have friends over. Even cooler was that I could connect my HDTV to it for amazing sound from my favorite shows and movies. Good stuff. 
Definitely head to the Gramophone showroom to see it for yourself! Oh, and don't forget to bring your own iPod so you can put it to the test!
- Mick Lee (from Z104.3)
*Note from the Gramophone Team: It's on display for a limited time only, so swing by before March 31st!