Classe is now available at Gramophone
Gramophone is very proud to announce the addition of Classe to our family of high performance audio & video products. Classe is a Canadian high-end audio company and have been around for going on 30 years. While many high end manufacturers lack the technical capability to design & manufacture products that incorporate today's latest technologies, Classe has the resources to design, engineer & build high performance products without the compromises that are so common in mass produced products from lesser companies.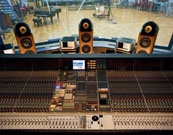 Nothing can better attest to the quality of their products than the recent endorsement Classe received from the Abbey Road recording studios. Abbey Road uses B&W Nautilus speakers (as shown in the picture to the left), and they wanted amplifiers that could provide all of the performance that the Nautilus speakers are capable of. As a result, Abbey Road recently upgraded the amplifiers to the Classe CAM-400 watt monoblock amplifiers. 
Classe's full line of products includes monoblock, 2 channel and multichannel amplifiers, integrated amplifiers, 2 channel preamplifiers, surround sound processors with high performance video scaling and the latest in HDMI, and CD disc players and DVD disc players. Please stop at one of our showrooms for a test drive of a 2-channel or multi-channel Classe system.