Cedar Rapids: Sweet and Stupid, Just the Way I Like Them
Cedar Rapids doesn't let you wonder for too long about what kind of comedy it's going to be.
When our folksy mid-west insurance salesman, Tim Lippe (Ed Helms), rendezvous with his former teacher/crush (Sigourney Weaver) for a little afternoon delight, it quickly tells you which comedy gear is appropriate: sweet, dope-ish and raunchy.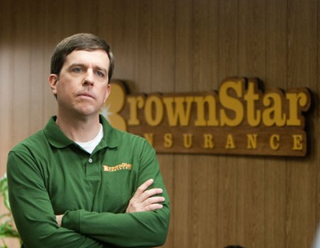 Tim works for BrownStar Insurance, a mom and pop agency somewhere out there in the middle of the country. The un-timely--and very David Carradine--death of their ace salesman, leaves big shoes for Tim to fill at the annual ASMI Conference. Having never attended the conference, Tim's one charge from his boss (Stephen Root... "they stole my stapler") is to bring home the coveted Two Diamond Award. 
Commence with the fish out of water. Tim hasn't been on a plane before and certainly hasn't traveled to a mega-metroplis like Cedar Rapids, Iowa. It's the big time that he finds when he arrives at the motel and conference center and he is swiftly taken under the collective wings of ASMI vets, Dean "Deanzie" Ziegler (John C. Reilly), Ronald Wilkes (Isaiah Whitlock Jr... That's Clay Davis for my Wire fans), and Joan Ostrowki-Fox (Anne Heche). 
Work conferences can be dreadful. What do you ever take away from them? Woeful speakers giving presentation while you try to consume even more woeful food. It's really just an opportunity to network with colleagues and the faces you don't normally get to see.  Sure, that usually involves tearing it up at the ham-fistedly named hotel bar and causing a little ruckus. 
While Tim aimed for the straight and narrow, focused steadily on the Two Diamond Award, Deanzie took it upon himself to show him said ruckus. The hair comes down and the spurs go up. Much of the movie is the John C. Reilly show. He's a tornado of lewd jabber, descending upon poor little Tim. He's a hilarious and ridiculous version of "that guy." You know the guy: He's there for the party. And if there is no party, he's grabbing a drink, putting a trash can on his head and making one. 
Deanzie's insanity and absurdity is well balanced with Tim. He is sweet. He believes in what he's doing. There is a moment in the movie where he talks about the people that sell insurance and manages to make them sound noble. When disaster strikes, representatives from insurance companies are among the first on the scene. They help people get back on their feet. Tim idealizes everything: insurance, his hero-coworker (according to Tim, his death was an accident), his "relationship" with his former teacher, and the hooker hanging about the motel. 
That mix of innocence, carried very well by Helms, and gutter-mouth, wielded with sheer artistry by Reilly, make for a very funny movie. The jokes come easy, and there's nothing that should catch you off guard. It's just funny. Sitting between the post-Oscar blitz, where there is seldom joy to be found in the cinema (Winter's Bone...fine film. AGONY!), and the smash-you-in-the-face action of the spring/summer movie season; it's great to have a simple, stupid laugh. It clears the air.
-Tom Rowe
---
Tom Rowe is a passionate Baltimorean that is passionate about Baltimore. Raised between the General Cinema Perring Parkway, Senator, and the few theaters along York Road, Tom spends his time between movies exploring the city's culinary scene, collecting comic books and the associated paraphernalia, bemoaning never-ending home renovations, and googling words to make sure that he's spelling them correctly (example: paraphernalia). You can follow @thefrontrowe on Twitter or visit www.thefrontrowe.com for futher ramblings.