Keeping It Tight with Miles Davis and Bitches Brew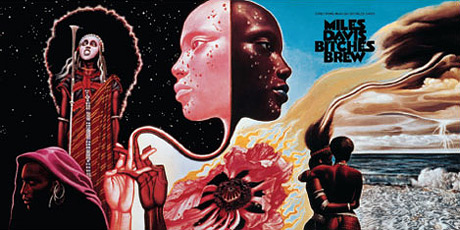 By Ken Swauger
Developing an interest in jazz can be very rewarding but knowing what artists to seek out can be somewhat bewildering. One way to avoid this problem is to begin with a single acknowledged masterwork and then use it as a stepping-stone to widen your Jazz horizons and collection.
A great example is the Miles Davis studio double album Bitches Brew released in the spring of 1970. In his autobiography Miles said he was worried his audience-drawing ability was on the wane; that he was no longer completely filling the larger performance venues. His record label, Columbia, was reluctant to advance him large sums of money for future projects. In response he said, "…I wasn't prepared to be a memory yet". Miles had seen what had happened at Woodstock and believed he could appeal to a younger audience if he made a few changes. He said, "I had seen the way to the future with my music and I was going for it like I had always done".
Miles formed a new band with talented young jazz musicians, toured with this group throughout 1968, and began working on Bitches Brew in August of the next year. Davis' concept was to inject rock-style rhythm and urgency into jazz improvisation. The composition of the group was different from jazz traditions as well. There were two electric pianists, two bassists (one electric and one acoustic double bass), and two, sometimes three drummers. Typical of the way he worked with musicians Miles only gave them the mood he was aiming for, the tempo, a few chords and snippets of melody. He expected them to improvise from that vague starting point and most of all pay close attention to one another.  On one point in the recording you can hear Miles extoll, "Keep it tight!"
The result, Bitches Brew, is credited with starting a new genre of popular music: "Jazz-Rock Fusion" or simply "Fusion".  An amalgamation of the strengths of both musical types, Fusion melded the improvisational freshness and creativity of jazz with the youthful, driving fierceness of rock and roll.  Bitches Brew was the template for jazz into the 70's and 80's. The record won a Grammy in 1971 for best large jazz ensemble and is ranked number 95 in Rolling Stone magazine's list of 500 greatest albums of all time
Once you've listened to Bitches Brew you can use it as a foundation to discover additional worthwhile recordings by the individual band members.  The soprano sax player is Wayne Shorter and he and Joe Zawinul (the electric piano player heard from the left audio channel on the recording) formed a group called Weather Report, who became one of the most successful fusion groups. Listen to their album Heavy Weather not only for Shorter and Zawinul's compositional wizardry but also for the virtuoso bass playing by Jaco Pastorius.
Next is Chick Corea (the keyboard player coming from the right audio channel on Bitches Brew) and listen to his recording Return to Forever, a Latin influenced jazz masterpiece that features vocalist Flora Purim and bass player Stanley Clarke.
Another Bitches Brew alumnus is British electric guitarist John McLaughlin. His fast playing speed and exotic harmony sensibility added a glimpse of what the future would be for the electric guitar. His groundbreaking album Birds of Fire should be next on your list.
Fellow English musician Dave Holland plays the double bass on the Miles recording and his near perfect tone and precise timing add a rock-solid foundation. His record Conference of the Birds is a prime example of his skills.
Rounding out the rhythm section are the drummers Jack DeJohnette (heard from the right audio channel) and Billy Cobham (the left audio channel). DeJohnette's recording Album Album is a fine example of his drumming and band-leading ability. Billy Cobham's incredible power and precision can be heard on both Crosswinds and Spectrum the later recording has rock guitarist Tommy Bolin (T-Rex) playing on it as well.
Now that you've heard what each of the major performers created go back and listen to the amazing talent captured on Bitches Brew and how skillfully Miles Davis reinvented himself and gave the world a completely new musical expression to enjoy.
Bitches Brew is available as 180-gram audiophile vinyl, Hybrid SACD, CD and MP3 formats.
Weather Report's Heavy Weather can be found as 180-gram audiophile vinyl (45rpm), SACD, CD and MP3 formats.
Chick Corea's Return to Forever is available as 180-gram audiophile vinyl, SACD, CD and MP3 formats.
John McLaughlin's Birds of Fire is found in 180-gram audiophile vinyl, CD and MP3 formats.
Dave Holland's Conference of the Birds is available in CD and MP3 formats.
Album Album is available in CD and MP3 formats
Billy Cobham's Crosswinds can be found in CD and MP3 formats.
Billy Cobham's Spectrum is available as 180-gram audiophile vinyl, CD and MP3 formats.