GREAT SOUND SINCE 2005
Audioengine is an independent speaker company based in Austin, Texas. They successfully built and designed studio monitor speakers for the pro-market years before entering the home audio sector. The main developmental shift took place in 2005 after discovering the ability to utilize the speakers with laptops and iPods. The result was a surprisingly resolute sound, despite the compression inherent to said devices. Audioengine refined their flagship speaker for months before releasing it in 2006. The A5+ became a bestseller and won numerous awards along the way.

Audioengine designs and builds innovative audio gear that works seamlessly with your devices and streaming services, providing a fantastic, modern listening experience in a classic yet timeless appeal.
PRODUCTS
Audioengine specializes in the production of high-fidelity speakers and their counterparts at affordable prices. Their speaker technology ranges from wireless to powered and passive to subwoofers. You can find a variety of their gear at our Gramophone locations or on our Online-Store.
Take a look at some of our most popular models:
Prices are subject to change*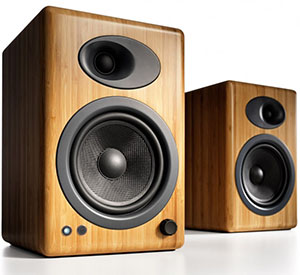 A5+ POWERED BOOKSHELF SPEAKER PAIR
Audioengine 5+ (A5+) premium powered speakers with built-in power amps deliver audiophile-quality sound at a price that continues to set the standard for affordable high-quality audio. Connect your iDevice, computer, TV, or any other audio component for great stereo sound in any room. The A5+ is available in bamboo, black and white.
$ 469*
. . . . .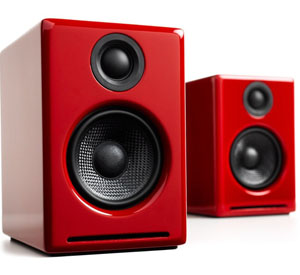 AUDIOENGINE A2+
POWERED DESKTOP SPEAKER PAIR
These small, high-performance speakers are the perfect upgrade for your computer. They deliver superb soundstage and imaging, sounding great with or without a subwoofer. The A2+ is available in black, red and white.
$ 249*
. . . . .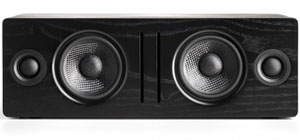 AUDIOENGINE B2
POWERED BLUETOOTH SPEAKER
Wirelessly stream all your music from any Bluetooth®-enabled device and experience award-winning Audioengine stereo sound, including a hand-built wood cabinet and an extended wireless range. The B2 is available in black, walnut and zebrawood.
$ 225*
. . . . .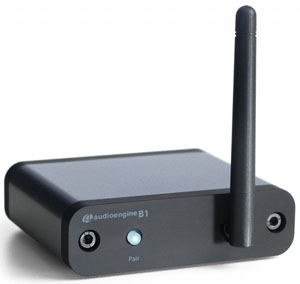 AUDIOENGINE B1
BLUETOOTH MUSIC RECEIVER
B1 is a high-fidelity audio component that easily integrates into your music system and plays music directly from your library or streams from any app. It streams high-quality audio from your Bluetooth®-enabled smartphone, computer, or tablet to any music system or powered speakers.
$189*