A pioneer in high-END sound design
Established in 1962, Audio-Technica is a worldwide group of companies devoted to the design, manufacture, marketing, and distribution of problem-solving audio equipment. Initially known for state-of-the-art phonograph cartridges, Audio-Technica now creates high-performance microphones, headphones, wireless systems, mixers and electronic products for home and professional use.
They are known to set audio quality standards and their microphones and wireless systems are selected for major broadcast music events, including the GRAMMY® Awards and the Rock & Roll Hall of Fame induction ceremonies.
Audio-Technica U.S., Inc. markets and distributes their products throughout the Western Hemisphere and became a global leader in its field, committed to providing superior performance and exceptional value for customers around the world.
PRODUCTS
You can find a variety of their gear at our Gramophone locations or on our Online-Store. Their headphones are highly rated yet affordable. Take a look at our suggestions:
Prices are subject to change*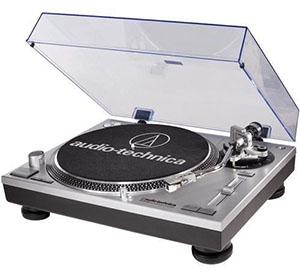 AUDIO-TECHNICA AT-LP120 TURNTABLE
This professional stereo turntable features a high-torque direct-drive motor for quick start-ups and a USB output that connects directly to your computer. Other features include: forward and reverse play capability; a cast aluminum platter with slip mat and a start/stop button; three speeds 33/45/78; selectable high-accuracy pitch lock and pitch change slider control; and a removable hinged dust cover.
$ 299*
. . . . .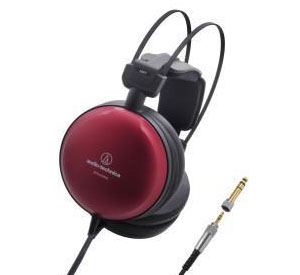 AUDIO-TECHNICA ATH-A1000Z
ART MONITOR CLOSED-BACK OVER-EAR HEADPHONES
They feature proprietary large-aperture 53 mm drivers to deliver exquisite hi-res audio reproduction. The drivers include OFC-7N bobbin-wound voice coils for ultra-efficient signal transmission, a pure iron yoke for a superior transient response, and a top-mounted PCB for smoother airflow that enables precise diaphragm movement.
$ 399*
. . . . .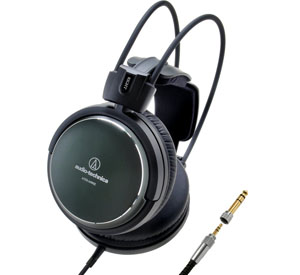 AUDIO-TECHNICA ATH-A990Z
ART MONITOR CLOSED-BACK DYNAMIC HEADPHONES
They feature large-aperture 53 mm drivers with OFC bobbin-wound voice coils to deliver hi-res audio reproduction. The drivers' integrated yoke and top-mounted PCB contribute to the performance by providing superior transient response and smoother airflow for precise diaphragm movement.
$ 219*