Kaleidescape Promotion

YOUR ULTIMATE 4K HDR EXPERIENCE BEGINS AT THE SOURCE
Delivering reference-quality movies at the source, Kaleidescape optimizes for the highest resolution, dynamic range, and contrast capabilities
of high-end Sony projectors and TVs. For a limited time, purchase any Sony projector or TV priced over $4,995* and:
Save $1,000 on a qualifying Kaleidescape System

---

Immersive cinema experience
STRATO C 4K ULTRA HD MOVIE PLAYER
Kaleidescape designed the Strato C movie player to provide an immersive home cinema experience, with better audio and video playback quality than most commercial theaters. Strato C is a premium 4K Ultra HD movie player that supports high dynamic range (HDR) and lossless multichannel audio including Dolby Atmos, Dolby TrueHD, DTS:X, and DTS-HD Master Audio. Strato C plays movies from a Terra, a compact Terra, or a Strato S over a network, with bit rates up to 100 Mbps and frame rates up to 60 fps.
Our Price $3,995.00
Pay as low as $111/mo.**
---

Maintains visual detail
Compact Terra Movie Server (6TB, 12TB, 18TB)
Kaleidescape's compact Terra creates powerful entry-level movie systems when combined with Kaleidescape Strato C players, and can be added to existing systems for incremental storage. The Kaleidescape Terra movie server is the foundation of a multi-room Kaleidescape Strato system. Kaleidescape Terra, with Strato C players, provides the best 4K Ultra HD performance and the most flexibility for future expansion. 
Starting at $5,995.00
Available memory: 6TB, 12TB,18TB
Pay as low as $167/mo.**
---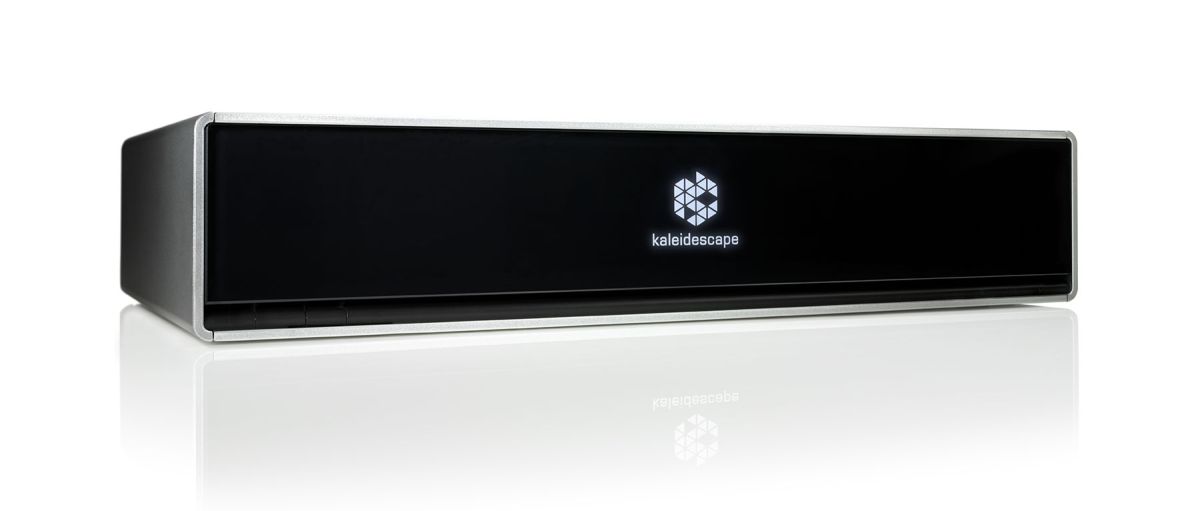 Downloads fast
Terra Movie Server
Kaleidescape's Terra movie servers and Strato C movie players represent the pinnacle of system performance and configuration. Separating the server and player dramatically increases the processing power of the Terra server in comparison to our combined Strato S product. The Terra server downloads a 4K movie in as little as 10 minutes, 4x faster than the Strato S, and can simultaneously distribute up to ten 4K HDR movies to Strato C players, allowing customers to enjoy their movie collection not just in their theater room, but throughout the home.
---

OVER 13,000 TITLES
BUY OR RENT YOUR FAVORITES
More 4K movies with lossless audio than anyone else,
with studio-quality curation and a personalized cinematic experience.
---
Hear the Difference: With an audio bitrate 10x higher than streaming services, Kaleidescape drastically elevates your processor, amplifiers, speakers, and room treatments.
See the Difference: With a video bitrate 8x that of streaming services, Kaleidescape elevates your video processor, projector, and screen to produce lifelike clarity and precision.
Experience the Difference: Kaleidescape players integrate with your home automation to dim lights, close shades, and adjust seating when the titles roll, and automatically screen mask to match the ratio of each film.
* Offer applies to any Sony model over $4,995 MSRP (USD).
**0% financing offer powered by Klarna varies by product selected and can be for terms up to 36 months based on eligibility.
Monthly payment does not include tax or additional purchases. Credit approval required for financing
and subject to Klarna finance agreement. Visit Klarna.com for full details.